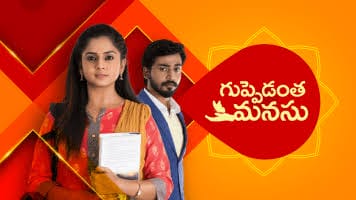 Guppedantha Manasu 11th January 2023 Written Update on TellyExpress.com
The episode starts with Rajiv saying to Vasudhara that he knew that she tied the mangalsutra by herself. He says he is lucky to get an intelligent wife like her and says he will take her to the hospital. Vasudhara says she doesn't need him and leaves hiring the auto. Rajiv follows her in his car. Rishi goes to college and recalls his moments with Vasudhara. Jagathi comes to him and places her hand on Rishi's shoulder. He turns. Jagathi says all memories can't be good and some are painful. She suggests him to not think about memories that hurt him. Rishi asks her what's his mistake and questions why her student breaks his heart. He asks if she understands his pain. He says you may not understand it as you hurt me in childhood and left me so you can't answer my questions. Jagathi tries to talk. Rishi stops her and says tell to your student that these deceivings are common to me and I can live with the memories so tell her that I don't need her in my life and ask her to stay away from me.
The doctor tells Nurse that Sumithra is recovering quickly. Vasudhara comes there and asks Doctor about her parent's condition. The doctor tells her Chakrapani and Sumithra are out of danger. Vasudhara thanks the doctor. She tells her unconscious parents that she will take care of them. She asks her dad how to make him realize that she didn't do any mistake. Sumithra coughs. Vasudhara goes to her and makes her drink water. Sumithra feels happy seeing Vasudhara. She tries to talk. Vasudhara asks her to feel relaxed and assures her that she will stay beside her.
In the cabin, Jagathi thinks about Rishi's words. Mahindra goes to her and asks what happened. Jagathi tells him Rishi's state is breaking her and asks him if can't they do anything to cure Rishi's pain. Mahindra asks what they can do. Jagathi asks how can Vasudhara change in this way. Mahindra says Vasudhara hurt us with her behavior so let's think about how to cure Rishi and leave about Vasudhara. Jagathi says I thought Vasudhara is a miracle and she really does a miracle and gave me great Gurudakshina.
Vasudhara blames herself for her parent's condition. She tells her unconscious parents that she married Rishi with her conscience and asks them to get well soon and says she will take care of them. Rajiv comes there and asks if she forgot about him. Vasudhara says you will be jailed. Rajiv says no as we are a couple to society. Vasudhara warns him to talk properly and tells him that he will get the punishment he deserves soon. Rajiv says your parents will support me and Rishi feels you're my wife so you can't go near him. Vasudhara says very soon he will get exposed. Rajiv says no one can do anything to him. Sumithra gains consciousness. She asks Vasudhara about Chakrapani. Vasudhara says he is fine. Chakrapani also gains consciousness. Rajiv shows fake concern for them. Vasudhara asks Nurse to call Doctor. The nurse comes out and informs the constable that both patients are fine. Constable calls Si and informs him about it. Si says he is coming to complete the formalities. Rishi thinks about Vasudhara's words and imagines Vasudhara coming to his cabin.
Episode ends.