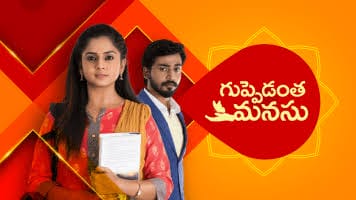 Guppedantha Manasu 11th July 2022 Written Update on TellyExpress.com
The episode starts with Gautham saying they successfully send Rishi and Vasudhara in one car. Mahendra says we send them in one car but don't know whether they can talk or not as Rishi is angry and Vasudhara is dull. Jagathi says she scolded Vasu because of her lack of concentration in class. Mahendra says Vasu is confused and her concentration doesn't change from her aim. Jagati says Rishi and Mahendra are not talking properly. Mahendra says they will clear their differences soon and I know that Vasu will win and make Rishi win.
Rishi asks Vasu to take medicines daily. He scolds her for exhausting her energy in the measurements of the terrace. He asks her to not forget her aim. He stops the car and gets them coconuts. Rishi talks about the air in the car tyre. Vasudhara asks him to leave it. Rishi says he knows that she is the one who removed air from his tyre and you don't know how many problems I faced. Vasu asks why he thought to went to a movie with Sakshi? I didn't like it. Rishi asks what's the reason for her unlike. Vasu says there are many reasons, have you ever taken me to a movie? Rishi says rain may come so leave.
Vasu says now you're diverting the matter. Rishi asks her to leave it. He sees Sakshi is calling him. Rishi attends the call and talks with her to irritate Vasu. Vasudhara feels jealous and interrupts their call. Sakshi asks isn't he on duty. Rishi disconnects the call. He thinks she may get angry seeing me talking to Sakshi and I faced the same when she is talking to Girish. Rishi drops her and leaves asking her to eat on time. Vasu thinks he is a gentleman.
Sakshi informs everything to Devayani on call. She tells she is noticing changes and her ideas are working. Devayani tells her she can get Rishi if she waits for some time. Sakshi agrees. Mahendra asks for Rishi. Jagathi asks why he is behind Rishi. Mahendra says he feels very soon they hear good news. Jagathi says I want to hear it too but it's their life so let them decide without our involvement. Mahendra says he wants them to get united. Devayani hears their talk. She thinks she won't let Rishi and Vasudhara get united until she is alive. She leaves. Jagathi hears the sound and goes out but she didn't find anyone.
Rishi recalls Vasu. He calls Gautham. Rishi calls Vasudhara from Gautham's phone and tells Gautham to ask how is she and what she ate. Gautham asks Vasudhara and told her Rishi asked him. Rishi asks Gautham why did he tell her. Vasudhara tells Gautham to give it to Rishi. Gautham puts the phone on speaker. Vasudhara says thanks to Rishi for thinking about her well being. Rishi throws the phone on the bed. Gautham asks Rishi what is his problem.
Gautham asks what is the distance between Vasudhara and you. Rishi says he is talking to his heart. Gautham asks what is his next step. Rishi says he can only see blank in his future. Meanwhile, at the same time Vasudhara thinks to herself she should have messaged Rishi that she was fine. She has confidence that she is going to reduce the distance between Rishi and her. Vasudhara thinks Rishi is her future.
Episode ends.
Precap – Rishi and Sakshi will be about to go and Vasudhara comes. Sakshi will say she has booked a cab. Rishi says thank God I was thinking how to drop you to Sakshi. Sakshi says I booked the cab for Vasudhara. Rishi asks why does she need a cab.Rishi and Sakshi will get in the front seat and Vasudhara gets in the back seat of Rishi's car. Vasudhara tells Sakshi to put on her seat belt and thinks to herself she has her fears.
Click to read: