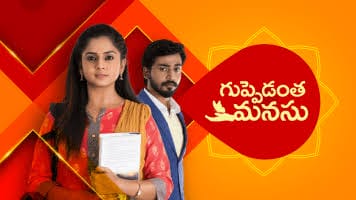 Guppedantha Manasu 11th November 2022 Written Update on TellyExpress.com
The episode starts with Gautham saying to Devayani how everyone praised Vasudhara at college. He offers to show her videos. Devayani says no need as Dharani showed them to me. Gautham asks why they didn't come. Devyani says you stay with Rishi all day in college so you have to know about where Rishi is more than us.
Dharani says she is expecting Rishi may giving a party to Vasudhara. Devayani asks if she readied sweets. Dharani says she readied them. Gautham says Devayani doesn't like Vasudhara and she is just allowing Vasudhara home for Rishi. Devayani says the car came so it means Maharani is coming with Rishi. She says to Dharani to ready the sweets.
Rishi and Vasudhara enter inside. Devayani sees Vasudhara in Rishi's coat and asks about it. Rishi asks Vasudhara to go and change her dress. Vasudhara leaves. Devayani asks Rishi. Rishi says he will tell her after getting freshen up and leaves.
Jagathi feeds sugar to Mahindra to share her happiness. She asks him to send a cake box and bouquet to Vasudhara. Mahindra says it's not possible in their state. Jagathi says he can send through some service. Mahindra says these are regular appreciation gifts and see how I surprise her. Jagathi asks what is his plan. Mahindra says it's a surprise. Gautham and Devayani praise Vasudhara and feed sweets to her. Gautham asks Rishi to congratulate Vasudhara again for Devayani.
Rishi congratulates Vasudhara. Vasudhara gives credit to Rishi and feeds him a sweet. Gautham asks why he looks dull. Rishi says he is missing Dad. Devayani says they can send a bouquet or call to appreciate you guys but they didn't. Vasudhara says they will always bless her. Devayani asks if it comes to her in the air. Gautham brings a newspaper and shows them paper how Mahindra and Jagathi congratulated Vasudhara and Rishi. Rishi and Vasudhara feel happy.
In the room, Rishi recalls his moments with Vasudhara from the start. He thinks Vasudhara has a great journey and success. He sees the Vr symbol in a book. He opens the cupboard and sees the VR ring he made for Vasudhara. He leaves taking it.
Vasudhara lights lamps. She senses Rishi's presence. He asks if it's a special Diwali for her. Vasudhara says yes and asks him to check if all diyas are fine or not. He checks them and fills diyas with oil. Rishi asks Vasudhara what more do they have to do? Vasudhara says she believes Jagathi madam will come if we light these Diyas. Rishi says if Jagathi madam comes then Mahindra will also come and says this is his selfishness.
Rishi asks Vasudhara to be careful as she might get her hand burnt. Vasudhara says he is there to take care of her. Ridhi teases Vasudhara. Vasudhara says these are looking good right? Rishi says he is seeing 12 diyas counting her. Rishi gives her a gift. Vasudhara opens it and sees that it is the ring with the VR symbol and recalls about it. Vasudhara says this ring is very special for her. Vasudhara says thanks is a small word for what he did. Rishi and Vasudhara hug each other.
Episode ends.