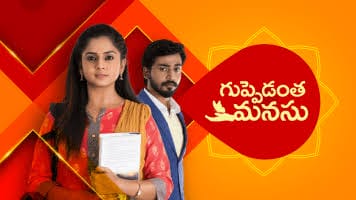 Guppedantha Manasu 12th January 2023 Written Update on TellyExpress.com
The episode starts with Vasudhara coming to Rishi's cabin. Rishi gets stunned seeing her here and asks about it? Vasudhara asks Rishi if he thought she wouldn't have come here if he leaves her. Rishi reminds Vasudhara that she was the who asked him to leave. Rishi asks Vasudhara to leave as she married someone else and betrayed him. Vasudhara tries to explain to Rishi but he doesn't listen and asks Vasudhara to leave. Rishi gets out of his dream and understands that he is daydreaming of Vasudhara. Rishi looks at their love momento and thinks about Vasudhara. Rishi gets a phone call from the minister PA. Mahindra takes the call. The PA says the minister asked them to prepare a plan to execute Mission education in India level. Mahindra picks up the files that are down and says to Rishi what PA said. Rishi says to Mahindra to give the task to Jagathi. Mahindra tries to take the love momento from Rishi but he doesn't give it at first. Mahindra says he hopes that he will get out of this soon. Rishi asks Mahindra if Vasudhara couldn't go against their parents for him. Mahindra says he couldn't talk about Vasudahra and says Vasudhara betrayed them. Rishi asks Mahindra not to talk bad about Vasudhara as he can't stand it. Mahindra asks Rishi about it. Rishi says he needs time to bury his live that he has for Vasudhara. Mahindra praises Rishi as gentleman. Rishi asks Mahindra not to use that word again. Rishi leaves in his car.
Rishi drives the car recalling his moments with Vasudhara. He comes to the temple without his knowledge. He goes to the goddess and asks if he came or if she made him come. He asks if she called him to see his pain. He questions her about how can he live without Vasudhara? He says you may want me to become weak but I'm not weak so tell me what I have to do.
The doctor asks Si to finish the formalities quickly. Si agrees. He asks Sumithra how the incident happened. Chakrapani says it's their bad luck that they are blessed with the wrong kids. Si stops him and says Rajiv already told us everything so let the victim talk first. Sumithra says it's an accident. Si says it's a big injury so tell the truth. Rajiv says it's done by Vasudhara but we can't live without Vasudhara that's why Mom in law is lying. Si tells Vasudhara that Rajiv is good.
Chakrapani asks Si to punish him in place of Vasudhara as I can't live if my reputation gets ruined by coming this news on tv so it's better to hang me. Sumithra and Vasudhara ask him to not talk in that way. Chakrapani asks Vasudhara to not talk. He asks Sumithra to give her confession. Rajiv says my mom in law can't tell that Vasudhara was the one who stabbed her as she is good. Vasudhara says she will tell the truth. Si stops her. Rajiv says Vasudhara came suddenly and ruined her parent's reputation and I'm feeling bad for them. Chakrapani says his son in law understands him better and he is lucky to get him. Rajiv goes to him and asks why he is praising him. Chakrapani slaps him. Everyone gets shocked.
Episode ends.