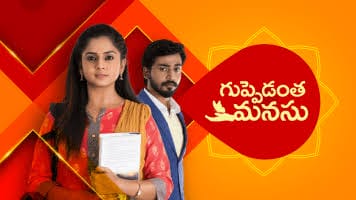 Guppedantha Manasu 12th November 2022 Written Update on TellyExpress.com
The episode starts with Vasudhara cooking in the kitchen. Gautham comes and asks Vasudhara why is she doing all this. Vasudhara says she also has responsibility in this housework. Gautham asks Vasudhara what are her next plans about Rishi and herself. He asks Vasudhara if there is a change in the word she gave to Mahindra. Vasudhara says to Gautham that Rishi needs to call Jagathi mother heartfully. Vasudhara says she only changed her way of doing things not her goal.
Rishi comes and asks Gautham if he is eating Vasudhara's brain. Gautham says there is nothing like that. Rishi says to Vasudhara that there is going to be a celebration as she became a university topper. Vasudhara says she can't enjoy it as Jagathi and Mahindra are not here. Rishi says there are reporters also coming. Gautam asks Vasudhara to take the interview saying it will be an inspiration to others.
Devayani recalls what Vasudhara said in the kitchen. Devayani feels it will be troublesome if Rishi slips out of her hand and decides to do something about it.
Devayani comes and asks Dharani what are today's news. Dharani says there is nothing. Devayani says Rishi and Vasudhara did not wake up till now. Devayani tries to make Dharani by her side. Devayani takes coffee to Rishi.
Vasudhara sets the bed. Vasudhara feels something is missing in Rishi's room. Vasudhara sees their love momentos in the table drawer. Vasudhara recalls their moments with it. Vasudhara sees the ring and recalls happy moments between them. Rishi comes and asks what is she doing here? Vasudhara says she is looking at those momentos and feels happy.
Vasudhara says this gift is very special to her. Rishi says she herself is a big gift to him. Rishi talks to Vasudhara about their journey. Vasudhara starts talking about love. Vasudhara says their love is great. Rishi agrees. Devayani sees Rishi and Vasudhara together and interrupts their happy moment. Devayani gives coffee to Rishi. Devayani says she will bring another coffee for Vasudhara and asks him to drink this coffee. Vasudhara says she will share this coffee. Rishi also agrees and says there is no need for another coffee.
Vasudhara says this coffee is good. Rishi says to Devayani that Phaneendra is calling and Rishi takes the call. Phaneendra says he is returning soon and cuts the call. Rishi asks Devayani what should they say about Mahindra to Phaneendra. Devayani says she is also thinking about it. Rishi leaves from there with Vasudhara. Devayani thinks she will be in trouble with Mahindra and Jagathi leaving the house. Rishi thinks about what to say to Phaneendra.
Episode ends.