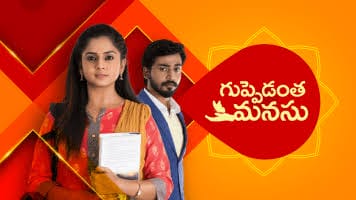 Guppedantha Manasu 12th September 2022 Written Update on TellyExpress.com
The episode starts with Mahindra insisting with Rishi that they will help them. Mahindra challenges the ladies that they can make garlands faster than them. Rishi and Mahindra sit with them to make garlands. Rishi and Vasudhara sit beside each other and work. Jagathi sees them and messages Mahindra saying each one should leave one by one to give some alone time for Vasudhara and Rishi. Mahindra acts as he got a call. Gautham asks what about the challenge.
Mahindra says it's canceled as he has an important phone call to attend. Jagathi goes behind Mahindra saying she has some work. Mahindra and Jagathi sign Dharani and Gautham to come from there. Rishi asks Vasudhara why is everyone leaving. Vasudhara says she doesn't know why. Vasudhara sees Rishi is doing it wrong and shows him how to do it. Rishi and Vasudhara share a romantic moment. Mahindra and others see this and feel happy about seeing Rishi and Vasudhara together.
Rishi wears garland on Vasudhara. Vasudhara asks what is this. Rishi says it's tit for tat. Vasudhara recalls she once wore a garland on Rishi on the stage. Devayani comes and asks Rishi what is he doing here. Devayani asks Vasudhara where is everyone. Vasudhara says everyone went away just now. Rishi asks Devayani to take a rest and says he will help her. Gautham and everyone comes back. Rishi asks Vasudhara if there is anything they have to do. Vasudhara says we have to order a cake. Gautham asks Rishi to do it. Rishi orders cake online. Mahindra and Jagathi feel happy hearing it. Rishi is about to leave. Dharani asks Rishi if they can play carroms together with everyone. Rishi doesn't answer and leaves. Mahindra convinces everyone to play carroms. Gautham and Jagathi are in one team. Mahindra and Vasudhara are in one team. Everyone feels it will be good if Rishi joins them.
Vasudhara messages Rishi to join with them to play carroms. Rishi sees the message and comes to join them. Rishi asks Gautham to leave and he takes Gautham place. Rishi asks Gautham how they will select the teammates. Rishi says they will select with coin toss. Mahindra thinks of making Jagathi and Rishi in one team and cheats in the coin toss. Mahindra chooses Vasudhara to be his teammate. So Rishi and Jagathi are in one team. Gautham supports Mahindra's team. Rishi says their team will not win. Rishi says to Jagathi that they should win. Jagathi feels elated being in the same team with Rishi and announces they will win.
Click to read: