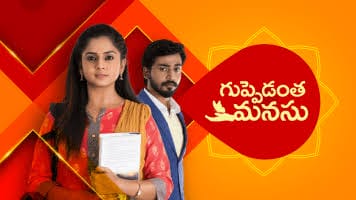 Guppedantha Manasu 13th January 2023 Written Update on TellyExpress.com
The episode starts with Rajiv asking Chakrapani why he is praising her. Chakrapani slaps him. Everyone gets shocked. Rajiv says father in law. Chakrapani holds his collar and warns him to not call him father in law. He says you're a backstabber. He reveals to the inspector 'Rajiv is lying and he is the one who stabbed my wife and I'm a witness to his crime. Vasudhara feels happy. Sumithra also gives her statement that Rajiv stabbed her without Vasudhara's knowledge.
Inspector gets shocked. Sumithra says Rajiv is the culprit and he is not good. Chakrapani reveals Rajiv's evil deeds to Inspector. Vasudhara reveals how Rajiv tried to kidnap her. Rajiv thinks everything is going against him and decides to not leave Vasudhara and escapes from there. Inspector and his constables go to catch him. Chakrapani hugs Vasudhara. Sumithra feels happy seeing them.
Rishi goes to his room and imagines Vasudhara is setting up his room. He realized it was his imagination. He thinks about how to avoid this pain and what mistake he did to get this pain. He sees a peacock feather and recalls Vasudhara's words. He throws it but it falls on him. Rishi thinks he can never forget her.
The next day, Jagathi tells his team about the mission education project. Rishi sees Vadudhara in Jagathi. He asks Vasudhara to talk more. Board members discuss why he is addressing Vasudhara when she is not here. Phaneedra points out the mistake to Rishi. Rishi realizes it. Mahindra asks Jagathi to continue. Jagathi tells her plans. Rishi again sees Vasudhara and says an excellent idea. Staff thinks about what happened to Rishi. Rishi apologizes to them and leaves. Phaneedra asks Jagathi to continue. He asks Mahindra to record it and show it to Rishi later. Mahindra agrees.
Vasudhara sees Chakrapani crying and asks why is he crying? Chakrapani says this is his ego i.e. coming out of him and asks Vasudhara to allow it to flow out. Chakrapani recalls his behaviour with Vasudhara and feels guilty. Chakrapani cries infront of Vasudhara and says he is mistaken about Rajiv. Chakrapani asks Vasudhara to forgive him. Chakrapani compares Vasudhara with her mother and praises her. Chakrapani asks Vasudhara if she can forgive him. Vasudhara asks Chakrapani not to talk like that. Chakrapani says he is blind because of honour. Chakrapani says she won in her studies and now she also has to win her love. Chakrapani asks Vasudhara to call Rishi by giving her his phone.
Sumitra asks Chakrapani if the police caught Rajiv or not. Chakrapani asks Sumitra not to talk about Rajiv infront of him. Chakrapani says he only thought like every other middle class father and thought if he did marriage to Vasudhara then everything will be alright. Vasudhara asks Chakrapani not to talk like that. Rishi comes to the classroom and thinks of Vasudhara. Vasudhara looks at Rishi's photo on her phone and thinks of Rishi.
Episode ends