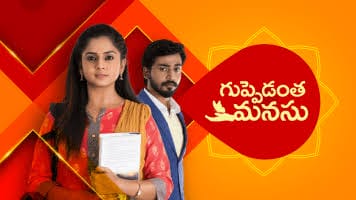 Guppedantha Manasu 13th September 2022 Written Update on TellyExpress.com
The episode starts with Rishi saying to Jagathi that they have to win the carrom game. Jagathi agrees. Mahindra also tells the same to Jagathi. Rishi asks Mahindra to start first. Mahindra hits the black coin. Next Rishi tells Jagathi that they need to block the moves of the opponent too. Mahindra asks if he thinks in this way too. Rishi agrees. During the game, Rishi encourages Jagathi that she can hit a red coin. Jagathi says it's tough. Mahindra also says the same. Rishi says you can do it, mam.
Jagathi hits the red coin. Everyone claps for her. Devayani comes there. Rishi calls Devayani and tells her that he is on the team with Jagathi mam and they will win if Jagathi mam strikes the black coin. Jagathi says opponents may win if she strikes white. Rishi asks her to strike with confidence and advises her to use less force. He tells they have to win. Jagathi says they will. She strikes the coin. Rishi feels happy and tells Devayani that they won. He congratulates Jagathi. Jagathi says he made them win. Mahindra and Vasudhara feel happy seeing them.
The next day Phaneedra asks Devayani to return Jagathi's jewellery to her. Devayani thinks many things are happening against her and giving jewellery to her is freeing her. Phaneedra leaves asking her to return Jagathi's jewellery to her on her anniversary day. Rishi comes to Devayani's room. He asks Devayani what are the jewellery in front of her. Devayani thinks she made Rishi against Jagathi in the past saying Jagathi left with her jewellery. She tells Rishi that she is planning to give her jewellery as a gift to Jagathi. Rishi says you have a big heart. Devayani says she values relationships so she is giving her jewellery. Rishi leaves saying she is great.
Rishi thinks about the past. Gautham comes to him and asks him if he wants him to do any arrangements. He asks why he looks so dull. Rishi tells him how he feels bad about the past. Gautham asks him to enjoy the present and warns him to be happy at the function.
Vasudhara feels confused thinking about which dress she needs to wear in the function. She thinks she is taking so much time to impress Rishi. Rishi comes there and asks why she placed many dresses on the bed. Vasudhara asks him to select a dress for her. Rishi gifts her saree. He tells her it's good on her. He asks if she likes it or not. Vasudhara says thanks to Rishi for the saree along with thinking about her.
Devayani comes to Jagathi's room to give her jewelry to her. Devayani asks permission to come in. Jagathi says there is no need for her to ask permission and asks Devayani to come in. Devayani tries to provoke Jagathi. But Jagathi doesn't get provoked and replies her calmly. Devayani says Phaneendra told me to give your jewelry to you. Jagathi says she was never interested in jewelry. Devayani asks if she doesn't want it then she will take it back. Jagathi says if she doesn't accept her gift then it will like disrespecting her and takes her jewelry from Devayani. Jagathi thanks Devayani. Devayani leaves.
Episode ends.