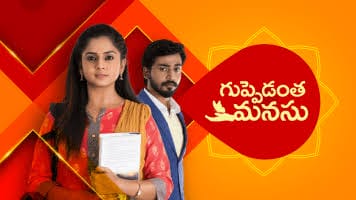 Guppedantha Manasu 14th November 2022 Written Update on TellyExpress.com
The episode starts with Vasudhara asking Rishi what is he thinking about? Rishi asks Vasudhara after Phaneendra returns and asks about Mahindra what should he tell Phaneendra. He says he has no answer for Phaneendra and asks how can he find Mahindra and Jagathi if they are hiding from him. Vasudhara thinks Mahindra hurt Rishi by leaving the house.
Devayani recalls what she said to Rishi saying Phaneendra said that. Devayani thinks of how to cover her lies. Dharani comes and gives coffee to Devayani. Devayani thanks Dharani and asks her if she knew where Mahindra and Jagathi went? Dharani says she doesn't know. Devayani agrees and says if she knew she wouldn't be Dharani and thanks Dharani for the coffee.Dharani leaves from there.
Jagathi sees the email from Vasudhara and thinks that Vasudhara should forget about them and get close to Rishi. Mahindra comes and asks Jagathi what is she thinking about? Jagathi says she is thinking about Rishi and Vasudhara. Mahindra says they know with what they did it will lead to good results and says they should not think about what they did. While Mahindra and Jagathi are talking Rishi and Vasudhara come to Gautham's house. Mahindra sees this and calls Gautham and says Rishi and Vasudhara came to the house. Gautham asks Mahindra to hide and says he will get there soon. Mahindra and Jagathi go upstairs. Rishi and Vasudhara search for Gautham but they can't find Gautham and go upstairs to search for him. Mahindra and Jagathi hide in a room.
Rishi and Vasudhara search upstairs but they couldn't find him. Rishi calls Gautham to find out where he is? Gautham doesn't attend the call. Gautham goes inside. Rishi is about to go the room that Mahindra and Jagathi are hiding. Gautham comes and asks Rishi what is he doing here? Rishi asks Gautham where did he go? Gautham says he went to give clothes for ironing. Rishi asks Gautham why didn't lock the doors when he went out? Gautham says the shop is nearby that's why he didn't lock the doors. Rishi asks Gautham to come with him. Gautham asks Rishi where is he taking him? Rishi says they are going to the police station to file a complaint.
Gautham says there is no need for that as it is a family matter. Rishi says Phaneendra is coming soon. Gautham assures Rishi that they will come soon. Vasudhara says to Gautham how much Rishi is missing after Mahindra left Rishi. Rishi asks Gautham if he knows where are Mahindra and Jagathi? Gautham says he doesn't know. Gautham asks Rishi to email that Phaneendra is returning home and says to wait for 2 days. He says if they don't return by then they will go and file a complaint. Rishi agrees. Rishi apologises to Gautam for shouting on him. Rishi leaves from there.
Jagathi advices Mahindra to return home. Mahindra says they came out for a change and says it will not happen in a day. Jagathi asks Mahindra till how long Mahindra will be outside and asks if he is going to stay out until Rishi doesn't trust any relationship. Gautham also advices Mahindra and says what Jagathi madam said is right. Mahindra asks Gautham if he is thinking of what would happen when Rishi knew that he is hiding them.
Episode ends.