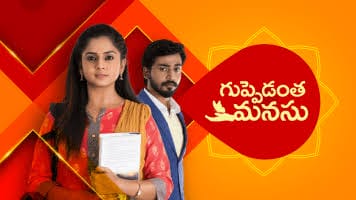 Guppedantha Manasu 14th September 2022 Written Update on TellyExpress.com
The episode starts with Vasudhara requesting Rishi that she will select the dress for him today. Rishi agrees. Vasudhara selects a dress for him and says if we do work for the people we love then we will enjoy it. Rishi agrees. Vasudhara selects a dress for Rishi and after seeing it Rishi hesitates for a while and decides to wear it. Rishi says the dress is good for Vasudhara. But Gautham comes and says the dress doesn't match him. Rishi says that Phaneendra is calling him and tells him to go away. Gautham leaves. Vasudhara asks Rishi if the dress is good or not. Rishi says to Vasudhara that Gautham doesn't have a taste. Vasudhara leaves hearing that.
Gautham and Phaneendra talk about decorations. Rishi comes downstairs wearing the dress that Vasudhara selected for her. Phaneendra and Gautham comment on Rishi dress saying that it doesn't suit him. Rishi sees Vasudhara and asks Gautham not to talk about the dress. Phaneendra asks for a coffee. Vasudhara goes to get it. Vasudhara sees Rishi's dress and thinks she has to do something about it.
Mahindra greets Jagathi wearing a new dress and congrats her on the marriage anniversary. Jagathi says she never thought that a day like this would come. Mahindra says to Jagathi that he also never thought about it. Mahindra says everything good is happening to us. Jagathi agrees. Mahindra says all that is left is seeing Vasudhara becoming this house daughter in law. Mahindra and Jagathi talk about Rishi and Vasudhara. Mahindra says Vasudhara will make Rishi call her mom soon. Jagathi says to Mahindra that if it really happens then she will be on cloud 9. Mahindra asks Jagathi to think about what we have to do for Vasudhara.
Vasudhara brings coffee for Phaneendra. Rishi thinks Vasudhara gets together with everyone. Devayani asks Phaneendra if any more guests should come. Phaneendra says yes. Devayani asks Phaneendra to call them. Phaneendra agrees. Vasudhara thinks that Rishi isn't looking good in the dress and thinks she has to do something. Vasudhara brings coffee and acts like she accidentally spills on Rishi. Vasudhara apologises to Rishi. Devayani reminds Vasudhara to be careful. Rishi says he will go to change his dress.
Vasudhara wears the dress that Rishi gave her. Vasudhara thinks to herself that she will go infront of Rishi and ask him how many marks she will get out of 10. While she is thinking like that. Rishi comes behind her.
Episode ends.