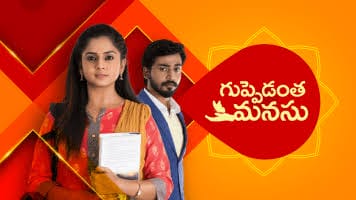 Guppedantha Manasu 15th July 2022 Written Update on TellyExpress.com
The episode starts with Rishi thinking of how Vasudhara wore the garland on him. Rishi takes the garland and wears it himself. Rishi thinks he can't understand Vasudhara. Rishi thinks from when Vasudhara said no to me she is acting like she is close to me even more than before. Vasudhara comes near Rishi's room and thinks to herself why did she come here and thinks if she is missing Rishi Sir.
Vasudhara sees her phone and comes to the room. Sakshi takes Vasudhara's phone from her hands and sees that she is looking at Rishi's photo on her phone. Sakshi asks why is she looking at Rishi's photo. Vasudhara takes her phone and says first it is wrong to take other people's phone without their consent, second it is none of her matter who she looks on her phone. Vasudhara tells Sakshi to mind her own matters. Vasudhara taunts Sakshi by asking her if she knew where she came from. Sakshi says to tell if she wants to.
Vasudhara says she came from Rishi's room. Sakshi asks you went to Rishi's room. Vasudhara says she wanted to meet him but at this time he might be sleeping so I didn't go inside. Sakshi says these days she is daring a lot. Vasudhara says just because I told you a story you should remember what happened then you should know dare doesn't grow every day. It has to be when you are born. Vasudhara walks away.
Rishi thinks of Vasudhara and says to himself she might have slept late. He says why am I thinking of her even if I don't want to. Rishi thinks if Vasudhara is comfortable here or not. Vasudhara is shown to be searching for something. Rishi comes and sees Vasudhara like that. Rishi asks Vasudhara if she slept or not. Vasundhra says she slept she completed the work and she wanted to write main points again. Rishi asks what is she searching for.
Vasudhara says she is searching for a pencil. Rishi thinks Vasudhara is looking different today. Vasudhara thinks why is he looking at me like this. Rishi goes near Vasudhara and takes it from her hair. Rishi asks Pencil can also be used like this. Vasudhara says I forgot in work matter.
Rishi says it's a blessing for some people to forget and for some people, it is a curse to not forget. Vasudhara thinks to herself this is the best time she will tell her feelings. Rishi also says she has to tell something. Rishi asks why some people are hypocritical and it will be better if they stay in their right. Rishi asks what do you want to say. Vasudhara says she has some doubts about Chaduvula pandaga and she will ask later. Rishi walks away.
Devayani gives a plan to Sakshi and says if someone gives coffee in the morning then they will think about that person. Sakshi says she will follow her advice.
Dharani comes and asks if she wants coffee. Devayani says she will ask if she wants until then to mind her work.
Rishi asks Gautham why is he roaming here. Gautham says I didn't have coffee from the morning. Rishi tells him if he wants them he can go to the kitchen and ask for some. Gautham says we have to give them the respect they deserve. Sakshi brings coffee to them. Gautham thinks the coffee is for himself and Rishi. Gautham thanks Sakshi. Gautham gives coffee to Rishi. Sakshi is about to explain but he doesn't listen. Sakshi thinks Gautham spoiled her plan.
Episode ends.
Precap – Rishi asks Sakshi why are you bringing coffee. Vasudhara comes and Gautham asks if she had coffee. Vasudhara says no and she is having head ache. Rishi says then let's share this coffee. Rishi asks Vasudhara if she will have it cup or saucer. Vasudhara takes the cup and drinks from it. Sakshi is angry seeing it.