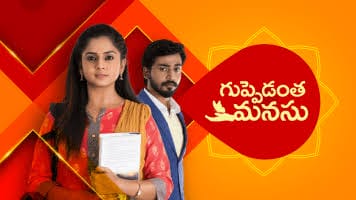 Guppedantha Manasu 16th November 2022 Written Update on TellyExpress.com
The episode starts with Vasudhara asking Gautham if he knows anything about where are Mahindra and Jagathi? Gautham says he doesn't know. He asks Vasudhara not to ask like that infront of Rishi and says if he suspects him then Rishi will kill him. Gautham says to Vasudhara if they both get together then Mahindra and Jagathi might come back. Vasudhara says it's impossible and says she didn't even give the interview because Jagathi is not here and asks how can Rishi and her get together when Mahindra and Jagathi are not here. Gautham asks Vasudhara what will she do? Vasudhara says she will wait for Jagathi madam. Vasudhara leaves from there and before leaving she asks Gautham to tell her if he knows anything about Mahindra and Jagathi. Gautham thinks of why did Vasudhara suspects him.
Rishi gets a call from the interview coordinator and says Vasudhara canceled the interview. Rishi says the interview will be there and says he will call them later. Rishi asks Gautham where is Vasudhara. Gautham says Vasudhara went away. Gautham says he gave a suggestion to Vasudhara. Rishi asks what suggestion did he give her. Gautham says the suggestion that he gave to Vasudhara. Rishi says he would have slapped him if this is not college. Rishi says he knows Jagathi is very important to Vasudhara just like Mahindra is to him. Rishi says to Gautham there is no need for him to advise Vasudhara. Rishi goes to find Vasudhara.
Vasudhara is shown to be praying to goddesses. Rishi comes there. Vasudhara asks him how he knows that she is here. Rishi says Gautham said you left and my heart told me that you will be here. He says you told your problem to the goddess so stay strong as Goddess won't let you get defeated. He takes Vasudhara with him. He stops the car in the middle way. They come out of the car. Rishi offers water to Vasudhara. She drinks water.
Rishi asks Vasudhara why she postponed her interview? He says your success will be an inspiration to many people. Vasudhara says Jagathi helped her in every step to reach her goal and her success is incomplete without Jagathi beside her that's why she didn't give an interview. Rishi asks her to that her interview will help many people. Vasudhara says my success credit goes to madam and without her it's nothing. She recalls her moments with Jagathi. She says it's wrong to forget the teacher who makes me reach my destination. Rishi says you didn't forget her. Vasudhara says she can't enjoy her success without Jagathi. Rishi consoles her wiping her tears. Vasudhara hugs him. Vasudhara apologises to Rishi. Rishi says he understands her and says they need to look for a solution if not they have to bear the burden. Rishi says they should hope Jagathi and Mahindra will come soon and asks Vasudhara to get in the car.
Phaneendra asks Gautham what are they doing when this much is happening in the house. Gautam says to Phaneendra what they are doing and says how can they find Mahindra and Jagathi if they are going to hide. Phaneendra agrees. Phaneendra says to Gautham he has to stay with Rishi. Gautham says Vasudhara is with Rishi these days and says Vasudhara understands Rishi very well. Phaneendra also praises Vasudhara. Rishi and Vasudhara join them. Phaneendra congrats Vasudhara. Phaneendra says to Rishi he happened to know what Mahindra did and says only he can bring back Mahindra to this house.
Episode ends.