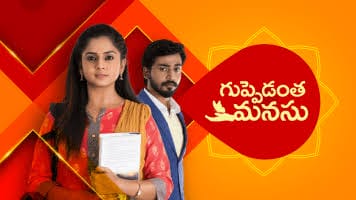 Guppedantha Manasu 16th September 2022 Written Update on TellyExpress.com
The episode starts with Rishi insisting Devayani to eat food. Devayani takes the food and agrees to eat. Rishi and Vasudhara go to eat. Rishi serves Vasudhara food. Gautham says to Phaneendra that he will come in a minute. Gautham comes to Rishi and praises himself saying that he made these decorations. Rishi asks Gautham to leave. Gautham leaves understanding Rishi.
While Vasudhara is eating she has a little food on her right side lip. Rishi points it out to Vasudhara but she doesn't get it. Rishi sees that no one is watching and helps Vasudhara wipes it off her lips with his finger. Mahindra thanks Phaneendra and Devayani. Devayani says this whole credit should go to Vasudhara. Devayani starts praising Vasudhara. Devayani apologises to her if she hurt her before. Rishi says to Devayani that there is no need for her to say sorry to Vasudhara. Devayani asks Vasudhara to do something for her. Vasudhara asks what is it. Devayani reveals the word that she gave to Mahindra saying she will make Rishi call Jagathi mom. Rishi gets surprised hearing about this. Devayani talks about this. Mahindra tries to stop her but she doesn't let him intervene and still continues on this topic.
Devayani praises Vasudhara saying she changed Rishi a lot and the credit goes to her. Devayani says she also used to get scared of Rishi's anger. Vasudhara gets worried thinking Rishi might misunderstand her after hearing about this. Devayani asks Vasudhara to make Rishi call Jagathi mom. Jagathi asks Devayani if this time this topic is needed. Devayani says this is the right time. Phaneendra tries to stop Devayani but she doesn't end this topic. Devayani says to Jagathi that after Vasudhara makes Rishi calls her mom then they will go to Vasudhara's village to talk to their parents and asks Vasudhara's hand for Rishi. Devayani acts like she wants to make Rishi this house daughter in law with Jagathi.

Rishi shouts and asks Devayani to stop. Devayani says to Rishi that whatever she said is the truth. She also says if he wants he can also ask Vasudhara. Rishi asks Devayani to stop talking and leaves. Vasudhara tries to stop Rishi to explain. But Rishi asks her to move aside. Rishi leaves from there. Vasudhara asks Mahindra what will happen if Rishi listens to her once. Mahindra says to Vasudhara he will go and talk. Devayani tries to provoke Mahindra. Mahindra controls his anger and says one day Rishi might really call Jagathi "mom". Devayani says to Jagathi that she heard them talking that's how she knew that Mahindra took a word from Vasudhara.
Episode ends.