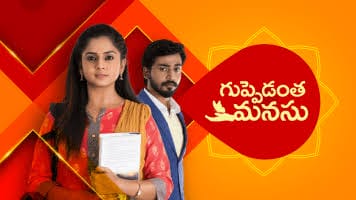 Guppedantha Manasu 17th January 2023 Written Update on TellyExpress.com
The episode starts with Rishi saying to his family members that he will go to a new place where none knows him and will return as a new person. Mahindra asks them he returns. Rishi says he doesn't know whether he returns or not. Mahindra cries holding him and asking him to not make him alone. Rishi requests him to not stop him. He hugs Devayani and is about to leave. Jagathi stops him and asks him to leave after informing his decision in college otherwise rumors will spread in the college which is not good for the college's reputation. Phaneedra supports Jagathi and asks Rishi to leave after informing his decision in the college. Rishi goes back to his room.
Rishi and others reach college. Rishi feels bad remembering Vasudhara. He walks towards the steps. Mahindra is about to stop him but Jagathi asks him to not disturb Rishi as he is recalling his memories with Vasudhara so let's go inside. They go inside. Phaneedra prays for Rishi's quick recovery. Rishi recalls his memories with Vasudhara in the playground. He thinks about why Vasudhara punished him. He receives Mahindra's call.
Mahindra informs him everyone is waiting for him. Rishi says he is coming. In the meeting, Rishi gives his responsibilities to Jagathi and asks the staff to support their new MD Jagathi as they supported him. The staff asks what about him. Rishi says he is resigning from his position due to personal reasons. Staff discusses Vasudhara might be the reason. Staff asks Rishi where is he leaving and when he comes back. Mahindra says Rishi is taking a short break and he will return soon. Rishi says the meeting is over. Everyone leaves.
Phaneedra asks Rishi to return in 2days. Rishi says he can't get healed in 2 days. He says he will go to the airport from the college. Phaneedra asks won't he tell to Devayani. Rishi says he can't hurt her. He asks him to convey it to Devayani and Dharani. Rishi makes Jagathi sit in his chair. He places Mahindra's hand in Jagayhi's hand and asks Jagathi to take care of Mahindra and the college. Jagathi feels emotional. Rishi leaves the college in his car. Mahindra controls his tears.
Vasudhara returns to college. Rishi sees Vasudhara coming into the college and stops the car for a second and leaves from there. Vasudhara calls Rishi but he doesn't stop the car.
Mahindra takes Jagathi to Rishi's cabin and asks her to sit in Rishi's chair. Jagathi says she is feeling bad. Mahindra asks her to not mix the responsibility and their pain. He makes her sit on the chair. Vasudhara comes there and asks Jagathi for permission to come in. They get shocked seeing her. Jagathi asks Vasudhara why did she come here? Vasudhara says she received a mail from minister to start her work so she returns and asks when Md sir will return. Mahindra says Jagathi is new MD. Vasudhara asks where old Md went. Jagathi says no one knows about it.
Episode ends.