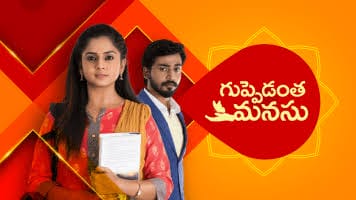 Guppedantha Manasu 18th January 2023 Written Update on TellyExpress.com
The episode starts with Mahindra saying to Vasudhara 'Jagathi is the new MD'. Vasudhara asks if she can know where old Md went. Jagathi says no one knows about it and she mocks Vasudhara for breaking Rishi's heart. She asks why she returns. Mahindra with respect asks if she came to see if Rishi is alive or not. Vasudhara asks why he is calling her madam.
Mahindra says you're not old Vasudhara to talk to you normally so it's needed to respect you. Jagathi says it's a waste to talk to Vasudhara and she just used us as a path to reach her aim and we can't understand their acts. Vasudhara says she is going to her cabin and takes charge as mission education head. Jagathi stops her and asks her to answer their questions. Vasudhara says she will answer the person she has to answer and leaves.
On the way, Rishi thinks about why Vasudhara returned. Vasudhara sits in her cabin and thinks about where Rishi went. She thinks she knows how to cool Rishi. Vasudhara calls Rishi. Rishi gets irritated and disconnects her calls. Rishi stops his car aside. He gets frustrated with Vasudhara's continuous calls. He attends it finally and the call is from the flight agency and they inform him that his flight is canceled.
Mahindra and Jagathi come to Vasudhara's cabin. Vasudhara welcomes them and says she has to discuss her ideas of mission education with them. Jagathi asks why she is behaving normally after deceiving Rishi. She asjs if she knows where Rishi went. Mahindra asjs her to answer. Vasudhara says she will answer when the right time comes and says she will answer Rishi first so let's forget what happened and concentrate on what we can do. Jagathi raises her hand at her. Mahindra stops her. Jagathi says I'm asking you as Rishi's mother so answer me why you cheated on Rishi. Vasudhara says she will answer when the right time comes.
Jagathi sees the sorry notes Vasudhara writing for Rishi. Jagathi says sorry doesn't change her mistakes and questions who gave her the right to hurt Rishi? You're fine here but Rishi went far from us. Vasudhara asks where he went. Jagathi says they don't know and Devayani is much better than you and I hate to talk to you. She leaves. Mahindra says you gave good Gurudakshina. Vasudhara asks them to tell her where Rishi went. Jagathi says you don't deserve to know about Rishi's whereabouts so don't ask us about him. They leave.
Vasudhara thinks about where Rishi went. Pushpa comes there and questions Vadudhara about why she married without telling them. She asks Vasudhara what her husband does. Vasudhara says she will tell later. Pushpa says everyone is gossiping about her. Vasudhara says let them. Pushpa asks why she called her. Vasudhara asks her to search a house for her to stay near the college. Pushpa asks Vasudhara to stay at their house until they search the house for her. Vasudhara agrees.
Devayani gets shocked to learn Vasudhara is back. She asks Jagathi to fire Vasudhara. Mahindra says they can't fire her as she is appointed from the Minister's side. Devayani scolds Jagathi and Mahindra. Phaneedra says it's not their mistake. Devayani says they don't know how much she is feeling bad for Rishi. Vasudhara comes there and searches for Rishi. Devayani stops Vasudhara and questions why she came after hurting Rishi. Jagathi stops Devayani and says she will teach a lesson to Vasudhara.
Episode ends.