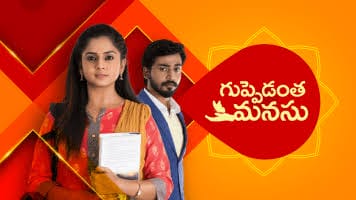 Guppedantha Manasu 19th January 2023 Written Update on TellyExpress.com
The episode starts with Jagathi stopping Devayani and saying she will teach a lesson to Vasudhara. Jagathi asks Vasudhara what's her work with Rishi. Vasudhara says she wants to talk to Rishi. Jagathi asks Vasudhara to leave. Mahindra says it's our family matter so leave. Vasudhara says she wants to talk about mission education. Mahindra says it's to be discussed in college, not at our place. Phaneedra asks him to not get hyper. Jagathi asks Vasudhara to leave. Vasudhara says she wants to talk to Rishi. Jagathi asks if she wants her to hold her feet. Vasudhara stops him. Phaneedra asks Vasudhara to never return to their place. Vasudhara requests them to tell her where is Rishi. Jagathi throws Vasudhara outside and closes the door in her face. Vasudhara gets hurt.
Vasudhara goes to the goddess temple and questions her why Mangalautra is separating them when she feels it's tied by Rishi. She says you know what's the truth and why I hurt Rishi so please show me Rishi and make him forgive me. She says her mangalsutra must keep Rishi and her united. While driving the car Rishi misses Vasudhara. Vasudhara requests the goddess to make her meet Rishi. Rishi comes there and sees Vasudhara. He thinks if it's his imagination or if Vasudhara is here. Rishi thinks about how he came here. Vasudhara feels happy seeing Rishi. She thanks the goddess.
Rishi is about to leave seeing the mangalsutra of Vasudhara. He stops the car and decides to leave after seeing the goddess. He prays to the goddess and tries to leave. Vasudhara stops him and requests him to give her 2 minutes to tell him about her marriage. Rishi stops her and warns her to not talk anything to him about her marriage. He leaves. Flowers selling vendor asks him to take flowers for Vasudhara. He pays money to the lady and asks her to place flowers near the goddess. She places them near the goddess and leaves blessing their pair. Vasudhara takes flowers. Rishi thinks about what's running in Vasudhara's heart. He leaves and stops the car near the temple.
Vasudhara comes out from the temple. Rishi from the rearview mirror sees Vasudhara is about to get hit by a lorry. He rushes to Vasudhara and saves her in time. He asks why she didn't see. She says you see it. Rishi sees the cab and asks her to leave in the cab and leaves in his car without hearing Vasudhara's pleas.
Chakrapani takes good care of Sumithra. Sumithra feels elated seeing his care and change. Chakrapani assures her everything gets settled soon and asks her to drink coffee. Sumithra drinks it. He cleans the house without listening to Sumithra. On another side, Vasudhara goes to Pushpa's house. Pushpa shows her room. Vasudhara thanks her and says she will leave soon. Pushpa says you can stay here how many days you want. She leaves for her office work. Sumithra calla Vasudhara. Vasudhara answers the call and how is she. Sumithra says I'm fine as your dad is taking good care of me.
Episode ends.