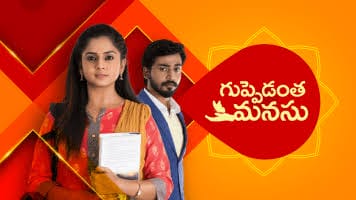 Guppedantha Manasu 19th September 2022 Written Update on TellyExpress.com
The episode starts with Jagathi sitting beside Mahindra. Mahindra says to Jagathi that Rishi is not giving him chance to talk to him and Rishi is blaming me that my love has selfishness. He asks how he becomes a selfish man when he loves Rishi so much. He says his tears are not supporting him. Jagathi says tears are the best solace so cry until you feel better. Mahindra cries on her shoulder. He wipes his tears. He asks what's wrong with his Gurudakshina deal with Vasudhara. Gautham goes to them and informs them that Vasudhara is missing. Mahindra says he will ask Rishi if he knows about her. Jagathi stops him and asks Gautham to talk with Rishi. Gautham agrees. Dharani asks if they want her to talk with Devayani. Jagathi says no need as she uses everything in her favor.
Rishi recalls everything. Gautham asks Rishi if he knows about Vasudhara as she is missing. Rishi says he doesn't know and asks him to search for her. Gautham leaves. Rishi calls Vasudhara but it doesn't get connected. Rishi goes to the terrace and sees Vasudhara sending an air lantern saying her wish that Rishi must call Jagathi as mom and accepts her. Rishi noticed her. Vasudhara notices him. Rishi says everyone is searching for you and they thought you left. Vasudhara asks why she left without telling him. She asks him to turn to her side and tells him that she will answer his every question. Rishi says not now and come downstairs as everyone is searching for you. He thinks to talk with her about the Gurudakshina deal later.
The next day, Devayani asks Rishi where is he going. Rishi says he has work and leaves. Gautham tells Mahindra that Rishi may be going with Vasudhara that's why he didn't reveal where he is going. Vasudhara is about to leave. Devayani stops her. She asks Dharani to bring a saree of their status to give to an outsider. Rishi waits for Vasudhara. Devayani asks Jagathi to stay there. She tells Vasudhara that she wants to repay everyone's favors. She asks Jagathi to give the saree to Vasudhara. Jagathi gives the saree to Vasudhara. Vasudhara tells Devayani that she won't forget what she got. Dharani brings sweet curd for Vasudhara and tells her that she will get good if she leaves after eating it. Vasudhara eats it. Vasudhara receives Rishi's message then she rushes out and leaves with Rishi in his car.
On the way, Vasudhara thinks she needs to clear the misunderstanding. Rishi thinks why she is not saying anything. She tries to hold his hand but he takes it back. Rishi stops the car and asks her to step out. They come out of the car. Rishi says things can't be hidden in relationships. He asks if she loved him as Rishi or Jagathi's son? Vasudhara says one whom she loves is Jagathi's son. Isn't it? Rishi says a question is not an answer to a question and my life is filled with questions. Vasudhara asks what's her mistake in it. Rishi says he is feeling bad that she has a deal with his dad. Vasudhara asks him to know what happened but Rishi doesn't allow her to clear it. Rishi says I got defeated many times in life and I can't bear it anymore and I didn't like the way Dad asked Gurudakshina from you.
Episode ends.