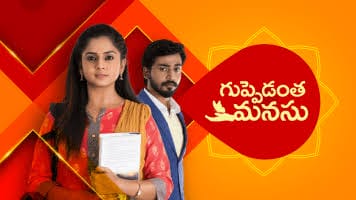 Guppedantha Manasu 21st September 2022 Written Update on TellyExpress.com
The episode starts with Gautham calling Rishi and saying to him that they are talking about him. Mahindra thinks if Rishi is angry on him and whether he will reply to him if he talks to him or not. Rishi comes to Mahindra and asks him if he ate food. Mahindra says he didn't. Rishi says to Mahindra that he has anger but he left it there and apologises to Mahindra. Gautham asks Rishi why did he apologise. Rishi recalls what happened. Gautham asks about Vasudhara. Rishi says he made Vasudhara reach her destination. Gautham says he didn't understand. Rishi says the person who should understand already understood it. Rishi leaves.
Vasudhara writes something on the blackboard and thinks of Rishi. Rishi sees that Vasudhara is writing on the borad. Rishi sits in the class room. Vasundhara sees Rishi and tries to erase the board. Rishi says there is no need and asks her to sit down. Rishi says he has something to talk with her. Vasudhara asks what is it. Rishi tells Vasudhara about his anger and says he will put away his anger for their love but she has to do something for it. Vasudhara asks what is it. Rishi asks Vasudhara to take 3 days time and he wants her to reply for his question and says she already knows what is the question.
Vasudhara tries to talk to Rishi. But Rishi doesn't give her the chance. Rishi says he knows it is tough for her but she has to do it for their love. Vasudhara says there is no selfishness in her love. Rishi wipes Vasudhara's tears and walks away. Vasudhara thinks if she has to be together with Rishi then she has to really forget about the word that she gave to Mahindra. Rishi is shown to be talking with someone. Rishi asks him if he got the footage. The person gives him the pen drive and says the footage is in it. Rishi asks him to not tell anyone about this.
Dharani comes and talks to Vasudhara. Dharani asks Vasudhara how did Devayani know about what happened between her and Mahindra. Vasudhara says she doesn't know. Dharani asks Vasudhara she has to handle Rishi carefully. Vasudhara agrees. When Dharani goes on the road she gets into an accident and injures her foot. Vasudhara hearing Dharani's shout goes to see her. Vasudhara sees Dharani is injured and asks her what happened. Dharani says someone came with a bike and dashed her and left from here.
Vasudhara takes Dharani to Rishi's house. Doctor checks Dharani. Devayani asks Dharani where did she go. Mahindra says to Devayani to let Dharani rest first. Devayani says to Mahindra to not interrupt her when she is asking. Dharani says she went to the market to bring the vegetables. Devayani says there are a lot of vegetables in the fridge and she can't understand why she went out. Devayani asks Vasudhara why does only she bring when their family members are hurt. Vasudhara makes up a reason. Devayani thinks of how to make Vasudhara get out of here.
Devayani asks Jagathi for a coffee. Jagathi says she has to take hot water for Dharani. Devayani asks Jagathi if Dharani is more important than her. Jagatahi says there is nothing like that and points out that Dharani is patient. Seeing Jagathi and Devayani arguing Vasudhara offers to help and says she will take hot water for Dharani and asks Jagathi to put coffee for Devayani. Jagathi goes to make coffee. Devayani asks Vasudhara why is she still here.
Devayani asks Vasudhara to leave saying Rishi will get angry seeing her. Vasudhara says she will patiently cool him down. Devayani hearing this says she has got a lot of guts. Vasudhara says to Devayani that the circumstances teach her how to behave. Gautham hearing about the coffee says he also wants coffee. Devayani asks Mahindra where he is going. Mahindra says he is not in the mood to talk. Vasudhara says to Mahindra that Jagathi is preparing coffee and asks him to sit down. Mahindra agrees. Vasudhara leaves to get coffee. Gautham and Devayani talk about Rishi. Gautham says nobody can understand Rishi and what decision he will take suddenly. Devayani asks what is he talking about. Gautham says he just said generally. Devayani leaves.
Episode ends