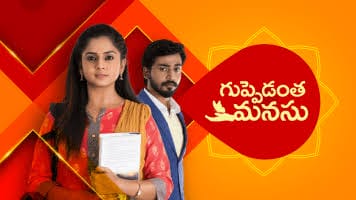 Guppedantha Manasu 22nd November 2022 Written Update on TellyExpress.com
The episode starts with Rishi, Phaneendra, and Mahindra getting on the stage to honor Vasudhara. Phaneedra covers Vasudhara with a shawl. Mahindra gives her a bouquet and congratulates her. Vasudhara bends for Rishi and he makes her wear the flowers garland recalling the past moment. Everyone claps for her. Jagathi asks the media people to start the interview. Vasudhara asks Jagathi and Rishi to be with her on the stage during the interview. They agree. Vasudhara takes Jagathi's blessings.
One of the reporters asks if she expected her success before? Vasudhara says two people expected it and they trust me more than me. The reporter asks who are they. Vasudhara reveals they are Jagathi and Rishi. She says her success is incomplete without them. Another reporter questions her about her family background. Vasudhara tells them about her family and how she struggled to study. The reporter asks what's her advice to other students. Vasudhara says hard work plays a key role in anyone's success and we have to cross tough paths to reach our goals. The reporter asks what's her next goal and if she is planning to move abroad for further studies. Vasudhara says she won't go anywhere and will settle as a lecturer. Everyone claps for her.
The reporter asks Rishi how he is feeling as a college MD. Rishi says he wishes Vasudhara to have all happiness and this is not the correct time to reveal everything. He thanks everyone. Rishi tells Vasudhara that he wants to tell everyone that she is important to him. Vasudhara says like you said it's not the correct time. Gautham goes upstairs and they take selfies. Mahindra tries to escape from there but Rishi stops him and asks him to not leave anywhere leaving him. The reporter comes there and apologises to Rishi for the inconvenience and congratulates him. Mahindra leaves. Rishi thanks him and notices Mahindra left. Jagathi comes downstairs from the stage. Rishi thanks her for coming and asks her to take care of Mahindra. Jagathi says it's her responsibility. He asks her to help him to make his dad stay with him. She agrees. The students stop Rishi from leaving as they want to take a selfie. Jagathi sees Rishi distracted and leaves from there.
Mahindra and Jagathi are about to get in the car. Jagathi says she doesn't want to go. Mahindra says we have to do it. Rishi stops Mahindra from getting in the car. Rishi says he wants to talk to him.
Phaneendra says to Devayani that Mahindra and Jagathi came to college. Devayani asks Phaneendra why did they leave? Phaneendra asks Devayani not to talk about it and says she needs to be happy that they returned. Gautham asks Phaneendra if he knew who tried to destroy Vasudhara and Rishi's reputation. Phaneendra says he doesn't know. Devayani asks Gautham not to talk about it on the happy occasion that Mahindra and Jagathi return and leaves from there.
Rishi tries to convince Mahindra to return home. Mahindra says the circumstances they went out of the house are still there and says it still needs to be solved. Rishi asks Mahindra if he feels the punishment he gave to Rishi is not enough. Mahindra says this is the punishment he gave himself and not to him. Rishi hearing this asks Mahindra if he wants to come or not. Rishi says if he wants to come he should come before tomorrow's sunrise.
Episode ends
Precap – Mahindra to say to Jagathi that he has decided on something. Rishi says to Vasudhara that he has waited till today that Mahindra will return home and asks Vasudhara if Mahindra will return by tomorrow.