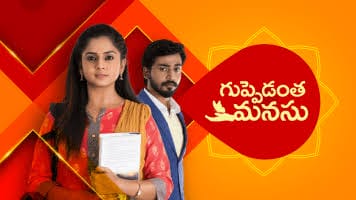 Guppedantha Manasu 22nd September 2022 Written Update on TellyExpress.com
The episode starts with Rishi entering his cabin. He watches CCTV footage of the last exam day and learns Sakshi made Vasudhara unconscious. He gets mad at Sakshi. Vasudhara apologizes to Dharani and says she is responsible for her condition. Dharani says it's not your mistake so don't feel guilty and I'm worried as I'm troubling you. In the hall, Devayani asks who will take care of Dharani. Mahindra says I will appoint a nurse. Jagathi says I will take care of her. Devayani says you're busy with college work so I have to do all the work which I can. She asks Mahindra to call the nurse immediately so we can make Vasudhara leave. Mahindra says I will talk to Rishi. Devayani says I will tell Rishi so appoint a nurse. Mahindra says I will think. Devayani leaves saying her value is getting decreased.
On the way, Rishi calls Vasudhara but her phone doesn't get connected then he calls Cafe and learns she is not at the cafe. He goes to her room but it's locked. Then he calls her. Vasu answers the call and tells him that she is at his place. Rishi disconnects the call and rushes home.
At the home, Mahindra asks Jagathi what's she doing. Jagathi says I'm doing college work. Mahindra says Rishi and you won't leave college work even though you guys are in tension. Jagathi says he is my son so he has my traits. Mahindra and Jagathi discuss it's good if Vasu stays here. Devayani thinks to make Vasu leave talking to Rishi.
Rishi returns home. Devayani tries to talk to him. Vasu comes there. Devayani tells him Dharani is injured but now she is fine. She asks Rishi to make Gautham drop Vasu. Rishi says let her stay here to take care of Dharani. Devayani says it may cause trouble for Vasu. Vasudhara says it's fine. Rishi thinks till now Vasu didn't tell me about Sakshi.
Rishi goes to Dharani's room and notices she is sleeping. Vasudhara asks if can I wake her up. Rishi asks how it happened. Vasudhara says it happened because of me. She says she came to meet me and met with an accident. He asks won't she let anyone live without tension. Dharani gains consciousness. He asks her to take a rest. Devayani calls Jagathi for help. Rishi hears it and goes to the kitchen. Vasu thinks about why he is looking angry. Rishi asks Devayani why she is doing kitchen work. Devayani says I need to take care of Dharani and she burns her hand intentionally and tells him that she wants to prepare him coffee. Vasudhara comes there. Rishi asks Vasudhara to prepare coffee and leaves with Devayani. Devayani winks at her.
Rishi waits for Vasu. Vasudhara takes him coffee. Rishi indirectly mocks her for hiding things from him. Vasudhara says sometimes we need to hide things in some situations. Rishi asks her to take care of Dharani well. Vasu says I will do it but why you talked to me in that way in Dharani's room. She asks him to ask her directly if he wants to know anything. Rishi says you have 3 days to answer me and I will ask you my questions when the time comes. Rishi thinks to ask her about Sakshi later. He tells coffee is good. Vasu says I thought you won't like it as you're angry. Rishi thanks her again for taking care of Dharani. She leaves. Rishi thinks she always amazes him with her nature. Devayani thinks if her plan is flopped. Rishi comes to Devayani's room. Devayani asks him to not worry as I will take care of Dharani. Rishi says it's not about it and tells her that he is getting irritated while thinking about Sakshi. Devayani gets shocked.
Episode ends.