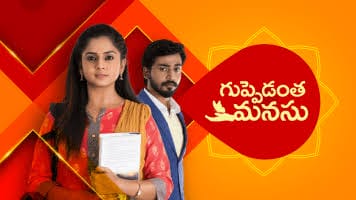 Guppedantha Manasu 23rd November 2022 Written Update on TellyExpress.com
The episode starts with Rishi asking Mahindra if he feels the punishment he gave to Rishi is not enough. Mahindra says this is the punishment he gave himself and not to him. Rishi hearing this tells Mahindra to think about how he lives without him. He says I'm happy to see you here and I want to tell everyone that you're back here for me but I didn't do it because of the situation. He notices Mahindra is thinking something. He asks Mahindra to see his eyes and tell him if he is returning home or not.
Mahindra couldn't answer. Rishi feels bad and turns to the other side. Mahindra wipes his tears. Rishi says think the whole night and decide what your heart wants to do and remember that this Rishi is in your heart. Mahindra tries to talk. Rishi stops him and says I just need you and your love so think the whole night and if he wants to come he should come before tomorrow's sunrise to make his morning good. Rishi says he expects him to return. He runs to Mahindra and hugs him in tears and leaves before Mahindra hugs him. Vasudhara joins Rishi and they leave in his car.
Rishi waits for his dad. He thinks about what Vasudhara is doing. Vasudhara recalls how Rishi pleaded with his dad. She thinks about what Rishi is doing. Rishi messages her what's she doing. She replies to him that she is unable to sleep. Rishi says to Vasudhara that he has waited till today that Mahindra will return home and asks Vasudhara if Mahindra will return by tomorrow. She replies to him he will definitely return. He replies he is scared somewhere. She messages him to meet her on the balcony. They meet on the balcony. Rishi says to Vasudhara about his conflicted feelings. He tells her he doesn't know why he is feeling scared. Vasudhara asks him to not feel scared as Mahindra sir will return and Jagathi mam will bring him home for you.
Jagathi asks Mahindra what he decided. Mahindra says to Jagathi that he has decided on something. Jagathi asks what's it. Mahindra says Rishi stopped me before I'm going to tell him that I'm coming and he gave me time. Jagathi asks when she needs to wake him up. Mahindra says he can't sleep as he is waiting to meet Rishi. Jagathi asks where he hid this love all these days. Mahindra tells her an example and says her that he is waiting for the next day morning.
Rishi and Vasudhara come inside holding hands. Devayani gets angry seeing it. Rishi leaves Vasudhara's hand. Devayani asks them why they didn't sleep till now. She blames Vasudhara. Rishi says it's not Vasudhara's mistake, She is giving him company. Devayani says there is no need to think too much about it and says Mahindra will come if he wants to come and asks Rishi to take a rest. Devayani says Rishi still doesn't understand other people's hearts. Vasudhara says Mahindra will definitely come today. Devayani asks Vasudhara what will happen if they don't come? Rishi asks Devayani not to talk like that. Vasudhara says some people will not understand him.
Mahindra asks Jagathi what is the time? Jagathi says she is already ready to go to Rishi. Mahindra asks Jagathi if they won or not. Jagathi says there is no winning and losing between family. Jagathi asks Mahindra if he is having second thoughts about going home. Mahindra says there isn't anything like that.
Episode ends
Precap – Mahindra and Jagathi get into an accident. The doctor is shown to be talking to Gautham. Gautham calls Rishi but Devayani cuts the call. Rishi eagerly waits for Mahindra's return. Gautham thinks of what to do as Rishi isn't picking up his calls.