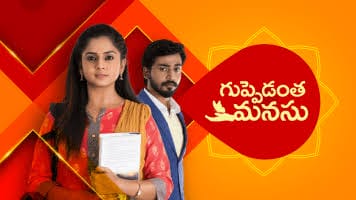 Guppedantha Manasu 23rd September 2022 Written Update on TellyExpress.com
The episode starts with Rishi asking Devayani how can he meet cheating people. Devayani thinks seems like Rishi's bonding with Vasudhara is weakening. She asks what happened. Rishi says I didn't expect it from an educated like her and I hate her. Devayani smiles. Rishi says I hate Sakshi. Devayani asks if he is talking about Sakshi. Rishi says yes, Sakshi stopped Vasudhara from writing her exam and I have video footage against her so tell her to leave this city and country otherwise she will be jailed. Devayani says I will inform her. Rishi leaves. Devayani thinks glad Rishi didn't confront Sakshi otherwise I will be exposed.
The next day, Jagathi sees Vasudhara in the kitchen. She recalls everything and asks Vasudhara if everything is fine between her and Rishi. Vasudhara says issues are common. Jagathi says I don't want you guys to separate because of me. She requests Vasudhara to not argue with Rishi in the Gurudakshina matter. Vasudhara says I know your heart and don't fear about it and. Jagathi says I know Rishi is a gentleman. Vasudhara goes to check Dharani and asks Jagathi to prepare her tea. Jagathi agrees. Vasudhara leaves. Rishi enters the kitchen. Jagathi asks Rishi if he wants coffee. Rishi says I will prepare it. He prepares it and asks Jagathi to tell Vasudhara to not influence his decisions as something can't be changed and I will talk with Dad about it. Jagathi feels bad. Rishi leaves with coffee.
Gautham goes to Rishi's room and asks what are specials. Rishi asks him to read the newspaper to know what are specials. Gautham says you're not talking to me like before. He asks what's special in his love. Rishi says some things can't be discussed. Gautham says fine but uncle and aunty have many hopes for you. Rishi gives him a look. Gautham leaves and he sees Mahindra in the doorway. He asks him to go. Mahindra sits beside Rishi. Rishi says I can't call Jagathi a mother so hoping that you won't force me in this matter. Mahindra stays silent. Rishi asks why he came. Mahindra says I want to see you once that's why came here. He leaves.
Vasudhara tells Jagathi that she will get books for Dharani for her time pass. Jagathi says it's a good idea. She sees Rishi comes there for Vasu. Jagathi levels saying she will take fruits to Dharani. Vasu asks her to come soon. Rishi comes there. Vasudhara thinks Jagathi entered the kitchen. She asks her to cut vegetables. She says Rishi is all rounder like you except for his anger. She says to prepare juice for Dharani as I'm busy with curry. Rishi prepares juice. Vasudhara says Rishi is lucky to get me, isn't it madam? She says I know you feel I'm lucky to get Rishi. She asks why you're not talking madam. She turns and gets shocked to see Rishi. Rishi says I did whatever you said and you want me to clean vessels too. Vasudhara says sorry sir I thought it was Jagathi mam. Rishi asks her to take the juice. She spills it on him. She apologizes to him and cleans his shirt. Devayani sees them in anger. She goes to the kitchen. Rishi says juice has fallen on me.
Episode ends.