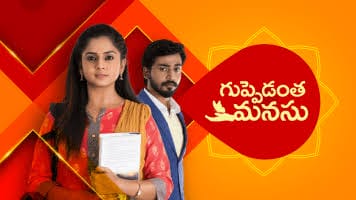 Guppedantha Manasu 24th January 2023 Written Update on TellyExpress.com
The episode starts with Mahindra and Jagathi going to the cabin. They see Devayani. Devayani tells them she will handle Vasudhara in her way. Mahindra and Jagathi say it will mess up the situation and Rishi accepted Vasudhara as project head so it's better to leave. Devayani says she won't leave it. Vasudhara comes there and asks Devayani to get up from her chair. Devayani says she is a board member of the college and asks Vasudhara to leave her position. Vasudhara asks them to start voting for her removal too. She says she will call Rishi and asks her to tell him. Devayani stops her and asks Jagathi to see Vasudhara's behavior. Vasudhara says she is the same from the beginning. She asks where is Rishi. She says she is going to meet Rishi for another purpose. She leaves.
Rishi can't concentrate on his work. He calls the receptionist and asks them to send a staff boy. He sleeps on the sofa. Vasudhara comes there but Rishi thinks it's the staff boy and asks him to massage his forehead with a balm. Vasudhara head massages Rishi when he closed his eyes. Rishi notices Vasudhara and asks why she came. She says she came for him. Rishi says he thought the office boy came here. Vasudhara asks him to give her a chance to explain what happened. Rishi refuses and asks who told her that he is here? Vasudhara says her heart told her. Rishi asks Vasudhara not to talk about the heart. He says I thought you won't return to college. Vasudhara says she is the head of mission education and says she is happy to work with him. Rishi asks Vasudhara to leave from Mission education also. Vasudhara reminds Rishi that he was the one who accepted and gave her the position of Mission education project head. Vasudhara asks Rishi to dismiss her through voting then she will leave. Rishi asks Vasudhara to talk about mission education in the meeting. They go to the meeting room.
In the meeting room, Rishi asks board members to support Vasudhara in the mission education program. Phaneedra says they will. Jagathi feels bad for Rishi. Rishi asks If the presentation is ready to submit to Minister. Vasudhara says she needs someone's help in the work. Phaneedra asks Vasudhara to take Jagathi's help. Jagathi refuses to work with Vasudhara stating she is busy. Rishi asks Vasudhara to take someone else help to complete the work on time. Vasudhara asks him to wish her luck. Rishi says all the best Vasudhara garu and leaves. Vasudhara feels hurt.
Vasudhara asks Jagathi why she is avoiding her. Jagathi says you failed my son's trust and deceived us so I don't want to work with you. Vasudhara feels bad.
Later Vasudhara gives water to Chakrapani. She asks if his journey is good. Chakrapani says the journey is good and your mom went to Madhavi's house. He asks if she cleared her differences with Rishi. She says she didn't. Chakrapani says it's good if she clears the differences quickly. He says he will apologise to Rishi and his family for her better future. Vasudhara says no need and asks him to stay with her always. Chakrapani says he stays with her until she asks him to leave. Vasudhara says she will never ask them to leave. Chakrapani says he wishes to see her with Rishi and promises her that he will stay with her for life long. Vasudhara says she is happy to see his change. Chakrapani says you changed me. He says he is hungry and asks her to feed him food. Vasudhara agrees.
Episode ends.