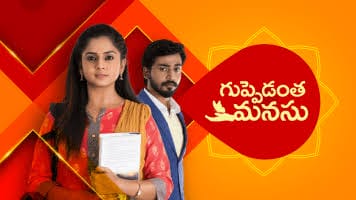 Guppedantha Manasu 24th November 2022 Written Update on TellyExpress.com
The episode starts with Jagathi saying there is no winning and losing between family. Jagathi asks Mahindra if he is having second thoughts about going home. Mahindra says there isn't anything like that. She asks him to not overthink and tells him that they have to return home for Rishi's love. Mahindra agrees. Rishi sets up Mahindra's room. Vasudhara asks what's he doing. Rishi says Dad is returning home so I'm setting his room. Vasudhara thinks she feels scared thinking about what happens to Rishi if Mahindra didn't come. He says he won't let his Dad leave him again. He thinks his heart will break if Mahindra didn't return home. Devayani fears thinking if her dreams are going to break with Mahindra-Jagathi's return.
On the way, Mahindra shares his excitement with Jagathi. That time lorry comes their way. Mahindra and Jagathi meet with an accident. Rishi waits for Mahindra's return. Jagathi and Mahindra are taken to the hospital. Rishi asks Devayani and Dharani if his Dad came. Devayani says they don't love you so don't expect their return. Rishi says his dad loves him and they will return for him. Gautham feels bad seeing Rishi's tension. That time he receives a call from the hospital. The receptionist tells him that someone met with an accident and they found his visiting car in their car. Gautham asks who are they. The receptionist says they are not in a condition to answer so please come to the hospital. He agrees.
Rishi asks Vasudhara why Dad didn't return. Gautham comes downstairs and tells them that he is going out and tells them about the call from the hospital. Rishi asks Gautham to go. He asks him if he feels Dad will return. Gautham says they will come so don't take tension. He leaves. Vasudhara brings coffee to Rishi. Rishi says he will drink with his dad and waits for his arrival.
Gautham reaches the hospital. Gautham calls the receptionist and goes to her. Gautham asks the receptionist what happened. The receptionist says they don't know how the accident happened and says they are unconscious. Gautham goes to the ICU. The doctor comes out and asks if he is with the patient. Gautham asks who is inside? The doctor shows the patient.
Gautham sees Mahindra and Jagathi on the hospital bed. Gautham says to the doctor he knows them and asks what happened. The doctor says what happened. Gautham asks the doctor about their condition. The doctor says they are doing first aid and says they can't tell anything until the main doctor checks them. Gautham calls Rishi to tell him about it. Devayani sees Gautham calling Rishi's phone and cuts the call as Gautham doesn't help her anytime. Gautham calls Rishi again but she cuts the call again. Gautham feels frustrated as Rishi is not picking up his calls.
Episode ends.
Precap – Rishi to come to the hospital and asks Gautham what happened. Gautham says Mahindra and Jagathi got into an accident. Rishi goes to Mahindra and asks him what happened. Mahindra says they got into an accident while returning home. Vasudhara asks Mahindra about Jagathi. Jagathi is shown in a more serious condition than Mahindra. Vasudhara worries about Jagathi. The doctor comes and asks them if they prepared the blood they asked for the patient. Rishi says his blood group is the same and he will give her blood.