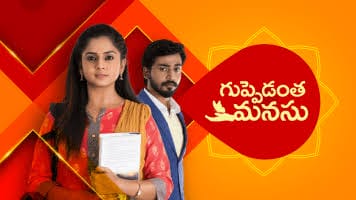 Guppedantha Manasu 24th September 2022 Written Update on TellyExpress.com
The episode starts with Vasudhara trying to wipe juice from Rishi's clothes saying sorry. Devayani says Rishi. Rishi says juice is spilled on my clothes. Devayani thinks Vasudhara might pour it on him but it's a waste to shout like before as Rishi is still angry in Sakshi matter. She asks him to change his dress. Rishi agrees and he goes to his room.
Rishi wears a towel and chooses a dress for him. That time Vasudhara comes there. Rishi gets shocked and hides behind the cupboard. He asks why she came without knocking on the door. Vasudhara says doors are open so I thought no need for it. Rishi asks her to leave. Vasudhara takes Rishi's clothes and tells him that she will return his clothes after washing them and she leaves asking him to not forget to iron the clothes. Rishi asks her to leave then he closes the door.
At the dining table, Gautham tells Devayani that Vasudhara mingles with everyone. Devayani says she noticed it. Phaneedra asks Jagathi if they gave medicines to Dharani. Jagathi agrees. Mahindra says where is Rishi. Rishi comes there. Gautham says he is here and tells him to be careful while drinking coffee and tea. Rishi asks Vasudhara to join them. Vasudhara says she will eat with Jagathi. Jagathi asks her to join them. Devayani gets angry. Rishi serves food to Vasudhara. Devayani asks Rishi why you're serving her? She is from the middle class so she knows how to serve herself as they don't have servants. Vasudhara says true and you're seeing miseries of middle class people but there is so much happiness at their place.
Gautham says you said it superbly. Vasudhara says it's true and middle class people have money problems but they don't run behind it and those people can only bend to bonds. Phaneedra praises Vasudhara's view. Devayani thinks everything is moving in Vasudhara's favor. Phaneedra receives a call that nurse is coming. Devayani tells Vasudhara that she can leave. Vasudhara says she is done and says she will leave after telling Dharani. Jagathi says she will drop her. Rishi asks Jagathi to be with Dharani. He asks Gautham to drop off Vasudhara. Jagathi feels bad.
Vasudhara asks Dharani to take care of herself. Devayani asks Jagathi if she felt bad that her student left. Jagathi says she will return soon. Devayani asks why she didn't some money to Vasudhara while she is leaving. Jagathi says Vasudhara didn't expect anything for her service. Devayani says you may expect Rishi to stop her. Jagathi advises her to not spoil her health by thinking about unrelated issues. Rishi comes there and sits with Devayani. Jagathi leaves.
Rishi asks Devayani if she informs Sakshi about his warning. Devayani looks on. Rishi says he will talk if she didn't talk to Sakshi. Devayani says she will handle the matter. Rishi leaves. On the way, Gautham asks Vasudhara to stay for some more time. Vasudhara says she didn't come as a guest. Gautham says we like to see you guys together. He asks if she informs Rishi. Vasudhara says he permitted me to leave. Rishi sees Vasudhara's photo and thinks she left without telling him. Gautham questions Vasudhara about Rishi's mood swings these days. Vasudhara says it's not good to enter someone's personal space. Gautham says you guys are in a great sink. Rishi messages Vasu that let's meet in the evening and we have to go out. Vasudhara replies ok.
Mahindra and Jagathi wait for Rishi. Devayani comes there and asks what are they doing in the hall. Jagathi says they are waiting for fir Rishi. Devayani asks if they are waiting for Rishi or thinking to create differences between them. She asks them to not underestimate her. Jagathi says I know what you can do and I don't want to talk about the past so don't talk in this way in Rishi matter and now everything is good so please don't pollute this atmosphere. Devayani asks why she is pleading with her. Mahindra says to Jagathi t not to plead with anyone. Jagathi says small things matter which can shatter the bond between Rishi and Vasudhara. Mahindra says Rishi is changed and no one can break the bond between Rishi and Vasudhara. Devayani says it's easy to change Rishi again.
Episode ends.