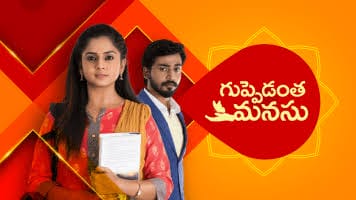 Guppedantha Manasu 25th November 2022 Written Update on TellyExpress.com
The episode starts with Devayani noticing Rishi is waiting for his dad. She meets Rishi and asks him to have a tiffin. Rishi says he will eat tiffin with his dad only. She says Phaneedra will scold me if I leave you in this way so come and talk to him. Rishi goes with her. Gautham notices Doctor coming out from Mahindra and Jagathi's ward. He asks the Doctor about Jagathi and Mahindra's conditions and tells him that they are his relatives. The doctor says Mahindra is fine but Jagathi is in critical condition so arrange the blood for her which is a rare group.
Gautham agrees. He decides to call Vasudhara. Rishi asks Vasudhara why his Dad return. That time Vasudhara receives Gautham's call. Rishi attends it. Gautham asks why he is not answering the call. Rishi asks him to tell him what's the matter. Gautham asks him to come to the hospital immediately. Rishi says he can't come. Gautham requests him to come for him and cuts the call. Rishi notices so many missed calls from Gautham. Vasudhara makes Rishi agrees to go to the hospital.
On the way, Rishi says Dad and Jagathi mam will feel bad knowing we are not at home. Vasudhara says Phaneedra is at home so they don't feel bad and we don't know what problem Gautham is stuck with as he called us to the hospital and we can return home quickly. They reach the hospital. Vasudhara calls Gautham and tells him that they are in the hospital. Gautham asks them to come to the Icu ward. Gautham contacts all his friends for O- blood.
Rishi meets Gautham and questions what happened and why you call me here. Gautham says Mahindra and Jagathi met with an accident. Rishi gets shocked seeing Mahindra and runs to his ward. He asks Mahindra what happened. Mahindra says sorry Rishi. Rishi asks why he is apologizing. Mahindra says they got into an accident while returning home. Rishi asks Mahindra if they were coming to him? Mahindra says yes. Mahindra says he didn't know how he left him these many days. Rishi asks Mahindra not to think like that and says nothing will happen to him.
Vasudhara asks Mahindra about Jagathi. Mahindra shows the curtain. Gautham takes the curtain. Jagathi is shown to be in a serious condition than Mahindra and unconscious. Vasudhara sees Jagathi and feels worried about Jagathi. Vasudhara asks Jagathi to open her eyes. The doctor asks them if they prepared the blood they asked for them to arrange.
Mahindra asks Gautham what is the doctor talking about? Doctor asks Gautham if he arranged O negative blood or not. Rishi hearing this says his blood group is the same and says he will donate. Doctor asks the nurse to take Rishi to donate blood. Rishi donates blood to Jagathi. Mahindra thinks Rishi is donating blood to the woman who gave birth to him.
Vasudhara recalls the arguments she had with Rishi about Jagathi. Vasudhara cries to herself recalling about it. Rishi consoles Vasudhara and says nothing will happen to Jagathi. Mahindra asks Gautham why are things like this?
Episode ends.
Precap – Vasudhara says to Jagathi that Rishi gave his blood to her and says he fulfilled his responsibility as a son. Rishi sees Jagathi and tries to leave but Jagathi catches Rishi's finger. Jagathi calls for Rishi in her sleep. The nurse asks Rishi if his name is Rishi? The nurse asks what is his relationship with Jagathi? Rishi sees Jagathi is having tears in her eyes. Rishi wipes away the tears and encourages Jagathi. Mahindra, Gautham and Vasudhara see this.