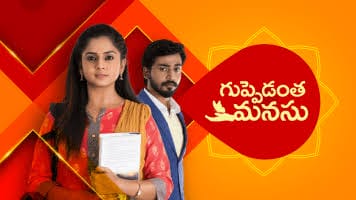 Guppedantha Manasu 26th January 2023 Written Update on TellyExpress.com
The episode starts with Vasudhara saying to the minister what they did through mission education. Minister also says to Vasudhara that mission education is getting a lot of attention all over India. Vasudhara puts forth a proposal to Minister that now they are going to do campaigns in rural areas and they are going to find out the talent in the people and help them in the right direction. Minister agrees with Vasudhara's idea and praises her. Minister asks Rishi to not lose Vasudhara as she is pretty smart. Rishi thinks Vasudhara left her. Minister tells Vasudhara that Rishi's family will be a big support to her. Vasudhara stays silent. Rishi and Vasudhara are about leave. Minister tells Vasudhara that if Rishi and herself are together then they can create wonders.
The lecturer says to Rishi that Minister has a good opinion on him. Rishi comments indirectly in Vasudhara. The lecturer also says Minister has a good opinion on Vasudhara also. The lecturer gets a call from her kid's school. She takes the call and gets to know that her kid is hurt. Rishi hearing about it says he will drop her. The lecturer agrees. Rishi drops the lecturer and decides to leave. Vasudhara thinks this is a good time to talk to Rishi but Rajiv comes there. Rishi tries to get down from his car but Vasudhara stops Rishi and asks him to start the car. Rishi asks how can they leave when Rajiv is coming here?
Vasudhara says he is more important to her. Rajiv asks Rishi if he can talk to him for 2 minutes. Rishi gets down from the car. Rajiv asks Rishi to ask to send Vasudhara with him. Vasudhara says to Rajiv that she will not come with him. Vasudhara tries to tell Rishi what really happened but Rajiv doesn't allow that and says to Vasudhara that he will explain to Rishi and asks Vasudhara to come with her. Rishi stays silent seeing all this. Vasudhara calls an auto and gets in it and leaves from there. Rajiv praises Rishi as he doesn't get angry at him. Rishi leaves in his car from there. Rajiv thinks to himself he took the first step to separate Vasudhara and Rishi.
Rajiv calls Devayani. Devayani attends the call and asks him why he called her. Rajiv tells her he implemented the plan to separate Rishi and Vasudhara. Devayani wishes him luck. Rajiv says he wants her best wishes and money too. Devayani tells him he will get more money than he expects. He thanks her. Devayani smiles. Dharani sees her and thinks she is planning something against Vasudhara.
Mahindra requests Rishi to not drink but Rishi doesn't listen and asks him to pour wine for them. On another side, Vasudhara feeds food to her father. Chakrapani says he is seeing his mother in her. Rishi asks Mahindra why everyone will go far from him in the middle. He asks how to bear his pain. Mahindra feels bad for Rishi. Rishi breaks wine glass and says wine can't cure his pain. Mahindra praises his self control. Rishi asks why Vasudhara is back to give him more pain. Vasudhara tells Chakrapani 'Rishi is good'. Chakrapani says he knows it and asks if she talked to Rishi.
Episode ends.