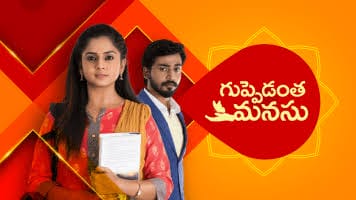 Guppedantha Manasu 27th October 2022 Written Update on TellyExpress.com
The episode starts with Rishi getting a call from MLA's P.A. Rishi attends the call. PA says when he sent mail to Mahindra and Jagathi about the Mission education meeting they sent a reply that they would not come and mentioned postponing it. Rishi gets upset hearing this.
Pa says Minister sir wants everyone to be part of the meeting so please take care of it. Rishi agrees and disconnects the call. Vasudhara asks him what happened. Rishi says they responded to the minister's mail but not attending my calls. He asks what mistake he did. Vasudhara says don't feel as we don't know why they left. Rishi places his head on her shoulder.
Devayani gets shocked seeing them from the balcony. Vasudhara asks him not to feel bad. Rishi says they mailed to postpone the meeting because Dad doesn't like to see my face. Vasudhara feels bad. She says she can't see him in pain and tells him that let's go inside as the weather is not good. Rishi says he used to spend time with his dad at this place and tells her that he will sit for some more time and asks her to go inside. Vasudhara goes inside. Rishi thinks his condition might be more painful without Vasudhara.
Devayani pulls Vasudhara aside. Vasudhara asks what is she doing. Devayani asks how can she behave closely with Rishi. Vasudhara says Rishi is my person. Devayani asks when it happened. You're not married to Rishi and don't even get engaged. She tells her she is not liking the way she is answering back to her and the situation may be another way if someone is in my position.
Vasudhara says if someone is in your place then that person may understand Rishi's condition unlike you, I came here for Rishi so stop showing your authority on me. Devayani says you got this courage because of Rishi, isn't it? Vasudhara says she is not Jagathi and Dharani to get scared of her, so stop controlling me and go to sleep after drinking milk. Devayani thinks she needs to show what's she to Vasudhara.
In the room, Rishi recalls his moments with his dad. On another side, Vasudhara thinks about Mahindra's request and Devayani's confrontation. She thinks when Rishi understands her. Rishi comes out of his room and thinks about how can his Dad leave him. Vasudhara feels worried about Rishi. Rishi comes to Vasudhara's room but he leaves without disturbing her. Vasudhara opens the door and notices Rishi is leaving. Vasudhara thinks of why did Rishi come here and didn't come inside.
Gautham talks to his mother on the phone. Rishi sees Gautham talking to his mother. Gautham asks Rishi what happened. Rishi asks Gautham what did his mother say to him. Gautham says she is telling him to take care of himself and to eat food on time. Rishi says he never heard those kinds of words in his life. Vasudhara overhears what Rishi said and feels sorry for Rishi.
Gautham says to Rishi that Mahindra will come soon. Rishi asks Mahindra when will they come. Gautham feels guilty as he couldn't say the truth even if he knows the truth. Rishi cries to himself and says nobody understands him. Gautham assures Rishi that everyone is here for him. Rishi comments on what Gautham said. Gautham tries to comfort Rishi and says sometimes we have to act according to the situation. Rishi says about his situation and says he might be at fault for no one understands him.
Episode ends.