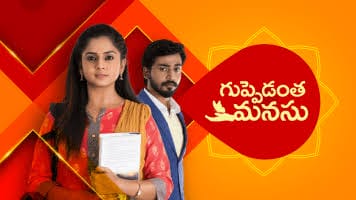 Guppedantha Manasu 27th September 2022 Written Update on TellyExpress.com
The episode starts with Jagathi asking Rishi to not lose Vasudhara. Rishi says it depends on Vasudhara and the final decision belongs to her. Jagathi leaves. Rishi thinks I'm waiting for you Vasudhara. Later Jagathi knocks on Vasudhara's door.
She doesn't get a response then she calls Vasudhara. Vasudhara attends the call. Jagathi asks her to open the door. Vasudhara opens the door and asks why she came. Jagathi asks if she fought with Rishi. Vasudhara says there is nothing. Jagathi asks if she is hiding matter from her? Rishi talked to me and said a final decision is yours do tell me what's the issue between you guys. Vasudhara says Rishi is asking me to forget about Gurudakshina.
Jagathi asks Vasudhara to listen to Rishi and tells her that she is fine even if Rishi doesn't address her as Mom. Vasudhara says I won't listen to you. Jagathi requests her to not spoil their lives for her. Vasudhara says I won't listen. Jagathi asks if she lose Rishi. Vasudhara says I won't lose him as I love him and I trust that I can make him call you Mom. Jagathi says I don't need it.
Vasudhara says it's needed for me and I want to see him without any marks so he needs to change. Jagathi says he is my son and I know him so understand and leave it. Vasudhara says he is your son that's why I feel I can change him and don't take tension. Jagathi Wipes her tears and leaves without listening to Vasudhara. Vasudhara thinks I know you're angry but one day I will change Rishi.
Jagathi returns to the Bhushan mansion. Rishi sees Jagathi and thinks she is looking weird and what happened to her. Jagathi comes to her room and starts packing her bags. Mahindra asks her where she is going? Jagathi says she is going to leave the Bhushan mansion. Mahindra asks her why? Jagathi says to Mahindra that Rishi and Vasudhara are going to be separated because of her. Mahindra asks her what is she talking about? Jagathi talks about the deal between him and Vasudhara.
Jagathi says she asked Vasudhara to leave the word she gave to him but Vasudhara is not listening to her and says Vasudhara said she will keep her word and says if it continues like this Rishi and Vasudhara are going to get separated. Mahindra also starts to pack his bags. Jagathi stops him and convinces him to stay saying that if he leaves Rishi will be alone. Jagathi is about to leave. Mahindra asks her to stop.
Rishi sees Jagathi leaving and says she took a good decision. He says to Jagathi I don't know why you went away the last time. But now I understood that you are leaving today because of me." Rishi comments on what she said. He says to Jagathi that he invited her because of his dad and he did their marriage anniversary also so that his dad will be happy. He says now she can't see him happy. Jagathi asks Rishi not to talk like that. Rishi says Vasudhara has a lot of pride and asks Jagathi why would she thinks just because she left Vasudhara will get close to her.
Rishi says to leave if she wants to and asks Jagathi to take Mahindra also with her. Rishi says he doesn't want to be the person who separates them. When Rishi is about to leave he sees Devayani. Devayani sees this as a chance and stops Rishi. Devayani starts questioning Jagathi and Mahindra on what will they get by hurting Rishi. Devayani asks Jagathi what will she get by harassing him. Jagathi says she would never do that. Devayani says to Jagathi not to talk.
Episode ends.