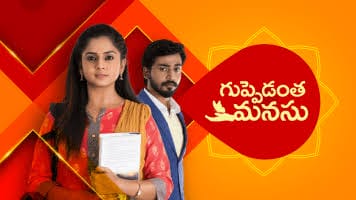 Guppedantha Manasu 28th September 2022 Written Update on TellyExpress.com
The episode starts with Devayani asking Jagathi why is she deliberately acting and harassing Rishi by doing dramas. Jagathi says to Devayani not to talk like that. Devayani asks Jagathi not talk and says Rishi is a child and he doesn't know her and says she knows Jagathi well. Mahindra comes and asks Devayani not to interfere in this matter. Devayani says to Mahindra that with this sentence he showed her place to her. Devayani says to Mahindra "so you do not want me to interfere as I am not a part of your family right." Rishi hearing this consoles Devayani.
Devayani acts like she is hurt infront of Rishi with what Mahindra said and says to Rishi that she will leave the house with Phaneendra. Rishi says to Devayani that she will stay wherever he stays. Rishi says to Mahindra that he doesn't like what he said. Rishi takes Devayani away from there. While leaving Devayani smiles at Mahindra and Jagathi. Rishi takes the car and drives away.
Vasudhara is shown to be praying to Goddess and asking the Goddess if it is wrong to wish to make Rishi call Jagathi mom. Rishi comes and says it is wrong. Rishi asks Vasudhara why does she work so hard trying to make him call Jagathi mom. Vasudhara says this is not hard and says what Jagathi madam is going through is called Hard. Rishi reminds Vasudhara how much he compromised with Jagathi for his father. Rishi asks Vasudhara why does she make him uncomfortable no matter how much he compromises. Vasudhara asks him is it wrong to call his mother with relation. Rishi asks Vasudhara what Jagathi madam and she talk about. Rishi asks Vasudhara why did Jagathi madam decide to leave the house.
Vasudhara recalls what happened with Jagathi madam and says to Rishi, madam thinks about him all the time and says Jagathi asked her to forget the word that she gave to Mahindra. Rishi asks Vasudhara why does she want him to call Jagathi mom but Jagathi doesn't want. Vasudhara says to Rishi that no mother will want that. Rishi asks Vasudhara to leave this matter. Vasudhara says she won't. Rishi hits the bell in anger. Vasudhara sees his hand is injured and when she tries to help him. Rishi rejects her help and ties his handkerchief around the wound. Rishi gets in the car. Vasudhara prays to the Goddess and she also gets in the car.
Mahindra asks Gautham to call Rishi. Gautham agrees and calls Rishi. Rishi disconnects the call. Gautham tells it to Mahindra. Mahindra asks him to call Vasudhara. Rishi asks Vasudhara to cut Gautham's call. He asks Vasudhara to not tell details to anyone and he stops the car and asks her to leave to home on the bus. Vasudhara requests him to take her to the hospital as he needs to be get treated but Rishi denies it and leaves dropping her off.
Rishi reaches college. Vasudhara reminds him to go to the hospital. It turns out to be his imagination. He thinks he won't change for anyone and it's your mistake that you're misunderstanding me in the Jagathi matter. Later Rishi is shown sleeping on the sofa. Vasudhara bandages his hand. Rishi wakes up and asks why she came. Vasudhara says it's because of my love. Rishi asks her to leave his hand. Vasudhara denies it and tells him that she can't bear it if he gets injured. Rishi asks why she is going against him if she loves him so much. Vasudhara says she needs to correct his mistakes that's real love and you have to know forgiving is great quality. Rishi says stop it Vasudhara, you can hide many things and you feel it for good. He asks her to not try to change him. He asks her to leave. Vasudhara says she won't leave until he leaves as they are one.
Episode ends.