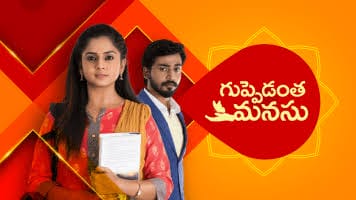 Guppedantha Manasu 29th October 2022 Written Update on TellyExpress.com
The episode starts with Vasudhara saying to Rishi that Devayani is very happy that I'm here supporting you so she is thanking me. Vasudhara asks Devayani if what she said is right. Devayani agrees. Rishi says I know that you love me pedamma and no need to thank Vasudhara as she is part of the family. Vasudhara indirectly mocks Devayani and asks if she hears it. Rishi says Vasudhara changed his life. He tells her they are leaving for college and leaves. Vasudhara tells Devayani that she will take care of Rishi and asks her to eat well and leaves. Devayani gets angry.
Near the car, Rishi misses his dad. Vasudhara sees Rishi's state and blames herself for Rishi's pain. Rishi sees Vasudhara and asks her what's the reason behind his dad's decision of leaving the house and why can't we trace them? He says won't his dad misses him as he misses him. Vasudhara says they are in pain more than you. Rishi says your madam knows everything then why can't she make dad understand that I will be in pain.
Vasudhara says we can't conclude that she didn't tell him and there is one quality that your family has I.e you're good and bears the pain. She thinks to search solution to Rishi's problem. Rishi asks where she wants to take him. Vasudhara says she will tell and asks him to start the car. Rishi asks can he knows where they are going. Vasudhara says it's the place they know.
Jagathi says to Mahindra that Vasudhara mailed her. Mahindra asks what did she send. Jagathi says Vasudhara apologised to them. Mahindra asks Jagathi if Vasudhara said she will take a step back on the Gurudakshina matter. Jagathi says she didn't. Mahindra reminds Jagathi that they came out of the house because they are getting in between Vasudhara and Rishi. Jagathi tries to convince Mahindra but he doesn't get convinced. Mahindra says Rishi hasn't changed and says Rishi is changing and says they have to wait until Rishi is completely changed. Jagathi shares her concern that Vasudhara and Rishi might separate. Mahindra assures Jagathi and asks Jagathi not to convince him.
Devayani asks Dharani for her phone. Dharani gives Devayani her phone. Devayani checks Dharani's phone to see if Mahindra and Jagathi called Dharani. Dharani says there is no need to check and says they didn't call her. Dharani asks Devayani to tell her if she gets any calls and leaves to the kitchen.
Jagathi gives tiffin to Mahindra. Mahindra says he doesn't need it and says watching Rishi's photo is enough. Jagathi asks Mahindra what will he do if Rishi thinks in the same way. Jagathi convinces Mahindra talking about Rishi. Jagathi feeds Mahindra. Mahindra dreams as Rishi is feeding him and has tears in his eyes. Jagathi asks Mahindra what he is thinking about? Mahindra asks Jagathi if he made a mistake?
Episode ends.