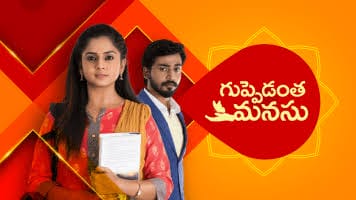 Guppedantha Manasu 29th September 2022 Written Update on TellyExpress.com
The episode starts with Rishi asking Vasudhara to leave. Vasudhara says she will leave only when he leaves. Rishi says this is blackmail. Vasudhara says this is the worry of one heart to another. Rishi books a cab for Vasudhara and gets to his car. Vasudhara follows behind him. Rishi says to Vasudhara that her cab came for her. Vasudhara thinks even in this much anger he shows care. Vasudhara praises him as a gentleman in her heart.
Mahindra and Jagathi get worried about Rishi. Devayani comes and taunts Mahindra and Jagathi. Devayani asks what are they thinking? Jagathi says to Devayani that Rishi went off in anger and asks Devayani to call Rishi. Devayani makes fun of Jagathi and says if she really thinks Devayani will call Rishi. Dharani says she will call Rishi and says Rishi will pick up her call. Devayani gets angry at Dharani and asks Dharani not to call and go inside. Rishi reaches the Bhushan mansion. Devayani asks Rishi why his hand hurt. Rishi says a glass is broken that's why he is hurt. Everyone tries to ask Rishi how did he get hurt? But Rishi says to everyone not to disturb him for some time. Devayani asks everyone to do as Rishi says.
Rishi recalls what happened with Vasudhara at the temple. Devayani sees Vasudhara coming to the house and going directly to Rishi's room.
Vasudhara enters Rishi's room. Rishi thinks it's his imagination. She asks if he takes tablets. He asks why she is not disappearing. She asks what's he saying? He asks how is his pain now. Jagathi and Dharani are about to take food to Rishi. Devayani stops them and asks them to come inside to see the surprise they like and she tells them she will feed Rishi. They go to Rishi's room and see Vasudhara with Rishi. Devayani asks Rishi to eat food but Rishi denies it. Vasudhara says you need to eat it and she takes the food plate from Devayani and commands Rishi to eat food. Rishi doesn't respond then she feeds him with her hand. He eats it. Everyone feels happy except Devayani. Mahindra says Gautham let's bring tablets to Rishi. Gautham understands the sign and they leave the room. Devayani feels confused about Vasudhara's speed and she too leaves the room.
Rishi says it's enough. Vasudhara asks him to not show his anger on food. Rishi says he knows where to show his anger and asks why she came. Vasudhara asks Rishi not to punish himself. Vasudhara talks to Rishi while feeding him. Vasudhara shows her concern to Rishi. Vasudhara says she will leave and asks him to be careful and asks him to have his tablets on time. While Vasudhara leaves. Rishi thinks she has alot of ego and thinks even if she talks angrily he can only see her concern for him.
Mahindra and Gautam talk about Rishi and Vasudhara. Jagathi also says the main problem is that nobody is backing down. Mahindra thinks of how to get them together. Gautham says they can only meet in college. Jagathi says they can come to college as there can be meetings for Mission education. Gautham and Mahindra says this is a good idea. Mahindra gives the title to Rishidhara for his plan. They decide to implement it.
Episode ends.