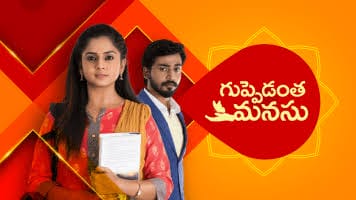 Guppedantha Manasu 2nd November 2022 Written Update on TellyExpress.com
The episode starts with Vasudhara recalling Rishi's behavior. She thinks she likes Rishi in all forms as they are Rishidhara. She draws their name symbol in the book in between the love symbol. Rishi takes it. Vasudhara asks him to return her book. Rishi says you may say it's your notebook but my name is included too. Rishi asks if she got hurt by his behavior. Vasudhara says she is used to his anger. Rishi asks what's she writing in notebook.
Vasudhara says it's love and nothing can affect it. He returns the book then he gives his autograph on her hand. Vasudhara smiles seeing it. Rishi asks why she is not talking. Vasudhara says she will talk when she wants. Rishi says seems like you're angry. Vasudhara says her anger doesn't need recognition. Rishi says I named you correctly as Pogaru. He asks her how she knows that he named her Pogaru and feeds her number Pogaru. Vasudhara recalls how she gets to know it. She reveals it to him about it.
Rishi says to Vasudhara that he thought she will be in anger. Vasudhara says she left her anger for his love. Rishi says she always surprises him. Vasudhara says words in her hand are their future. Rishi says those 2 letter doesn't have any gap and in that way we have to travel in life without letting any distance affect us, it's my promise. Vasudhara smiles.
Gautham meets Mahindra and Jagathi. Mahindra asks him about Rishi. Gautham says Rishi is in pain and he is planning to file a police complaint. Mahindra and Jagathi get shocked. Gautham says Rishi may lose trust in them if he finds your location through the police and it may pollute Rishi's thought process so return home as I'm unable to see his pain. Mahindra looks on.
In the college, Rishi tells Vasudhara they have to work in a mission education program once the results are out. Vasudhara agrees. She reminds him it's lunchtime. He says he is not hungry. Vasudhara says you're not eating properly from the time Mahindra left the house. Devayani comes there and says she is the one who thinks about Rishi. Rishi asks why she came. She tells him she bought a carriage for him. Rishi asks Vasudhara to see the love of Devayani. Vasudhara thinks she is doing drama and don't know when you see her real face. Devayani asks Vasudhara if she saw any drawback in her love. Rishi says don't say in that way, your love is pure and I won't believe anyone's words against you. Devayani says no need to tell Vasudhara as she knows about me.
Devayani asks Vasudhara to prepare to serve the food. Vasudhara leaves from there. Vasudhara asks Devayani to sit down and says she will serve them. Devayani says there is no need for that and asks Vasudhara to sit down and says she will serve. Devayani serves Rishi food and she also serves Vasudhara. While serving Vasudhara she also indirectly talks with Vasudhara. Vasudhara understands what Devayani is talking about and gives her reply according to her question. Rishi praises Devayani. Vasudhara thinks of what will happen when Rishi knew the truth about Devayani's matter.
Jagathi and Mahindra talk about Rishi. Mahindra worries about Rishi. Jagathi asks Mahindra if they should return. Mahindra says we should believe in what we do. Jagathi says Vasudhara is there to handle Rishi. Mahindra agrees.
Vasudhara talks with Pushpa on the phone and worries about the exam results. Pushpa encourages Vasudhara saying she will get the top rank. Vasudhara says she wants University topper. Pushpa says she will get it and asks her not to worry.
Episode ends
Precap – Rishi to ask Vasudhara why did they come to a lake at night time. Vasudhara says when we write a wish on a paper boat and leave it in the water then nature helps make our wish come true. Rishi asks what is her wish? Vasudhara asks Rishi the same question. Vasudhara asks Rishi to write his wish on this boat. Rishi and Vasudhara leave paper boats on the lake.