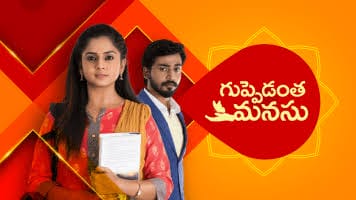 Guppedantha Manasu 31st October 2022 Written Update on TellyExpress.com
The episode starts with Jagathi feeding food to Mahindra. She asks why he is punishing himself. Mahindra asks if he made a mistake. Jagathi says he takes a hasty decision. He coughs. Jagathi gives him water. Mahindra says Rishi may remember him. Jagathi says Rishi recalls you every minute, you come far from him but you can't control yourself if Rishi is in front of you. Mahindra says it's the magic of love. He asks Jagathi to eat but she refuses. He doesn't listen and feeds her food. Jagathi feels bad and asks how many days he feels bad. Mahindra says they need to wait for the spring. Jagathi leaves. Mahindra sees his photo with Rishi and this wants he doing.
Vasudhara takes Rishi to the goddess temple. Rishi asks why she bought him here. She says she wants to talk with him and the goddess. She puts sindoor on his forehead. They pray to Goddesses. Vasudhara apologizes to Rishi. Rishi asks why she is apologising. Vasudhara says she did a mistake by forcing him to call Jagathi a mom. Rishi asks why she is talking about that matter.
Vasudhara says let me talk about it to feel relaxed. She says her courage in the deal got defeated seeing his love. Rishi asks what's she talking about. Vasudhara says I gave you pain with the deal so I need to apologise to you. Rishi says there is no need for an apology between them. Vasudhara says it's needed in a saree matter and I wanted you to change by myself but I failed to recognize that change must come naturally.
Vasudhara says she wanted to see Rishi without a spot. Vasudhara says she made a mistake and says she will take back her decision. Vasudhara feels guilty thinking she might be a reason for Mahindra leaving the house. Rishi says it is not her fault. Vasudhara apologises to Rishi. Rishi asks Vasudhara now there is nothing between them right? Vasudhara agrees. Vasudhara asks Rishi to follow his heart. Rishi says he is very happy today and says from now on there is never going to be a difference of opinion between them. Vasudhara agrees. Vasudhara prays to Goddess about Rishi.
Vasudhara says she can't take back the word that she gave to Mahindra and says she has to unite Jagathi and Rishi. Vasudhara says she will not try to make Rishi uncomfortable by asking Rishi to change his mind. Vasudhara says she will still try to make Rishi and Jagathi to get close. Rishi does a flower shower to show his thanks for Vasudhara. Vasudhara also does flower shower for Rishi. Rishi and Vasudhara make up with each other.
The teachers talk about Mission education. A teacher decides to call the landline for Jagathi madam. Dharani picks up the call. The teacher says she wants to talk to Jagathi. Devayani takes the phone from Dharani and says they don't know when Jagathi will return and says it is better for them not to call here.
Dharani asks Devayani how she talked with the teachers in that way. Devayani asks Dharani if she knows where Jagathi is. Dharani says she doesn't know. Devayani says we should tell what we know and says not to talk if she doesn't have answers. Devayani sees Gautham and asks him the same thing. Gautam says Devayani is correct. Rishi and Vasudhara go in a car. Rishi recalls what happened and feels elated and thinks now Vasudhara will never be separated from him.
Episode ends.