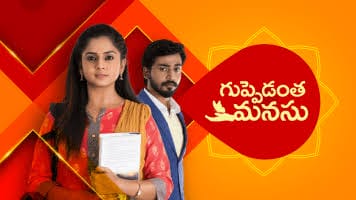 Guppedantha Manasu 3rd August 2022 Written Update on TellyExpress.com
The episode starts with Rishi telling what she did in the library. Rishi also reveals that Sakshi also sent some photos and blackmailed me at the conference of Chaduvula Pandaga. Those photos are of me and Vasudhara together. She blackmailed me with those photos. Rishi asks Devayani now what he has to do. Rishi says she attempted suicide that's why I talked to her but I can't stand her. Rishi tells to Devayani to tell Sakshi that if she did these kind of things again she will see my anger. Phaneendra and Mahindra say he did a good job by giving this job to Devayani. Devayani thinks Sakshi is finished. Rishi walks away. Jagathi comes and says to Devayani it will be good if sweet is made. Devayani looks at her angrily. Jagathi cancels the sweets seeing her.
Vasudhara waits for Rishi. Rishi goes to Vasudhara in a car. Rishi calls Vasudhara but he cuts the call. Vasudhara thinks why did he cut the call. Rishi says hello. Rishi thinks of what she said. Vasudhara and Rishi think what the other is thinking. Rishi holds Vasudhara's hand and asks her not to talk and come with him. Rishi gets a call from Sakshi. Sakshi asks where he is. Rishi says he is with Vasudhara and tells her he will talk with her later and cuts the call.
Dharani gives coffee to Mahindra and Jagathi. Mahindra and Dharani talk about Devayani. Mahindra asks what might Devayani do at this time. Dharani says she might be planning something. Jagathi says we should not think about Devayani but we should be worried about Rishi. Mahindra says there is no need to worry he is my son.
Rishi and Vasudhara go in the car. Vasudhara thinks I told you in the same way that you told me. Now, what can I say to make understand my heart. Rishi asks Vasudhara if she will think of what happened all the time. Vasudhara answers in a philosophical way. Rishi's car suddenly stops and Vasudhara asks what happened. Rishi says he has to see. Rishi gets down and opens the Bonet and sees what is wrong. Vasudhara asks where are we going.
Rishi says I thought why didn't you ask me till now. Vasudhara says I thought of not asking you. Rishi asks why. Vasudhara says it is because of trust. Rishi asks why she trust this much. Vasudhara says you need a reason not to trust someone but a reason is not needed to trust someone. Rishi sees the car to see what's wrong with it.
Sakshi comes to Rishi's home. Devayani asks what is she doing here. Sakshi says she wants answers. Sakshi asks she is going to become this house daughter in law yes or not. Jagathi asks her what happened. Sakshi tells what happened. Sakshi says if Rishi has to go somewhere it has to be with her not with Vasudhara. Jagathi says if she has a problem with Rishi she has to take it with Rishi and not to come to the house and argue. Devayani asks Jagathi to stop and says she will talk to Sakshi. Sakshi says he is not behaving with me like he used to.
When I announced that Rishi and me are engaged and we are going to get married. He didn't say anything and he is behaving like this now. Devayani reminds Sakshi of what she said at the conference and Rishi didn't say anything at the time it doesn't mean he accepted right. Sakshi is shocked to hear Devayani. Devayani says he might have decided to talk to you later. Mahindra and Jagathi think Devayani might be playing a reverse game. Sakshi asks are you also going to support Rishi. Devayani says to Sakshi that Rishi is not interested in marriage with her and he is hot going to marry her.
Episode ends