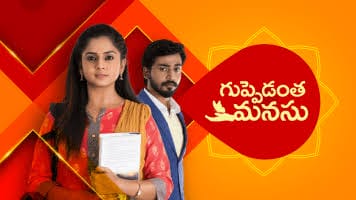 Guppedantha Manasu 3rd October 2022 Written Update on TellyExpress.com
The episode starts with Vasudhara saying to Pushpa how much she struggled to get the university topper. Pushpa encourages Vasudhara. Rishi overhears them talking. Vasudhara sees Rishi and says to Pushpa she will talk to her later. Rishi comes and asks Vasudhara what happened?
Vasudhara says she is worried about the exam results. Rishi laughs at what Vasudhara said. Vasudhara reminds Rishi of what happened at the final exam. Rishi encourages Vasudhara saying everything will be fine. Vasudhara asks Rishi for a favour. Rishi agrees. Vasudhara asks Rishi to come with her. Rishi agrees.
Rishi asks Vasudhara why did she bring him to a lake and asks Vasudhara what are these paper boats for? Vasudhara says when we write a wish on the paper boat and leave it in the water then nature will make our wish come true. Rishi asks Vasudhara what is her wish? Vasudhara asks Rishi the same question? Rishi says he wants Vasudhara to become a University topper.
Vasudhara asks Rishi to write his wish on the boat and leave it. Rishi agrees. Rishi and Vasudhara write their wishes on the boat and leave it in the water. Rishi asks Vasudhara where does she get these ideas from? Vasudhara says when she was a kid she used to play like this. Rishi says her ideas bring a new taste to his life. Vasudhara thanks Rishi for accepting her request. Rishi accepts her thanks. Rishi asks if they can go. Vasudhara agrees.
Devayani asks Dharani where is Rishi? Dharani says Rishi went outside. Devayani complaints about Vasudhara and Rishi going out at this time. Dharani asks Devayani if it is problem to go outside, why can't she tell Rishi. Devayani says we can't say to Rishi what is in our hearts all the time. Devayani gets frustrated with Dharani's behaviour and says she changed after Jagathi came. Dharani says she didn't. Devayani feels worried as if something is going to happen that is against her wish.
Vasudhara says thanks to Rishi. Rishi says there is no need for her to say thanks. Vasudhara says we should sometimes say what is in our heart and thanks Rishi again. Rishi asks Vasudhara for a word that she will never leave him. Vasudhara gives her word saying she will never leave him in this life.
Episode ends
Precap – Vasudhara while making Chapati gives nicknames to Chapati saying she will call it Prince Chapati, Gentleman Chapati. Rishi overhears Vasudhara giving Chapati nicknames. Rishi asks Vasudhara about it and asks if he can help. Vasudhara agrees. Vasudhara and Rishi have a romantic moment while doing Chapati.