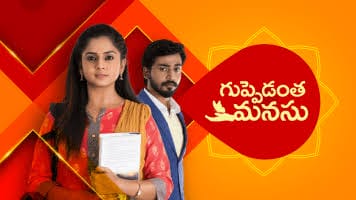 Guppedantha Manasu 4th January 2023 Written Update on TellyExpress.com
The episode starts with Vasudhara asking Rishi to leave. Rishi is taken aback and leaves from there. Jagathi questions Vasudhara about what happened to her and why she become a bride when she called them to talk about her marriage proposal with Rishi. Vasudhara in tears asks them to leave without questioning her. Mahindra says you gave us great Gurudakshina. He says let's leave Jagathi otherwise she will throw us out. They leave.
Rishi drives the car rashly and recalls how Vasudhara asked him to leave. On another side, Jagathi drives the car. Mahindra tells Jagathi that it's not good to go home otherwise Devayani will torture us so let's stay in the hotel. Pandit starts the marriage. Rajiv asks Pandit to do the marriage quickly before someone came to halt the wedding. Pandit asks Sumithra to bring the bride. Vasudhara recalls how she hunted Rishi. Sumithra goes to her and asks if she is crying. Vasudhara says I'm not crying so let's go. Vasudhara sits on the mandap beside Rajiv. Rajiv asks Pandit to start Mangalyadarana. Pandit agrees and asks him to make her wear the nuptial chain. Vasudhara asks Pandit "can a woman can have two nuptial chains". Pandit says it's inauspicious. Rajiv asks if she is playing a new game. He tries to tie the nuptial chain to her. Vasudhara shows him the nuptial chain on her neck. Everyone gets shocked.
Vasudhara tells Pandit that she has already married and how can she get remarried. Chakrapani asks what's she talking about. Rajiv asks Chakrapani to not worry and assures him he will talk to Vasudhara. Rajiv threatens Vasudhara to remove the nuptial chain from her neck. Vasudhara refuses to remove it. Rajiv says he will break it and marry her again. Pandit says he can see it and leaves. Vasudhara threatens Rajiv that she will kill him if he goes near her.
Chakrapani asks what she is saying. Vasudhara says Rajiv is a demon and he killed my sister. Rajiv asks her to stop accusing him. Sumithra supports Vasudhara and tells Chakrapani "Rajiv is not good". Vasudhara says Rajiv has a gun with him. Rajiv says he is not a criminal to carry a gun with him. Rajiv says Vasudhara is lying. Vasudhara says Rishi and my parent's life is important to me not my life and I will expose you now itself. Rajiv tries to break her nuptial chain. Chakrapani tries to stop Rajiv. Rajiv pushes him and he hits sofa and gets injured. Vasudhara threatens to kill Rajiv if he goes near her.
Episode ends.