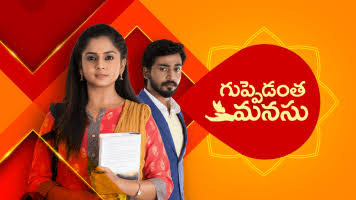 Guppedantha Manasu 5th August 2022 Written Update on TellyExpress.com
The episode starts with Jagathi thinking of what happened. Gautham asks Mahindra when did Sakshi get this much daring. How can she talk like that. Jagathi also shares her worries. Mahindra says Rishi and Vasudhara are correct until they are both right there will be no problem. Gautham agrees.
Vasudhara and Rishi sit at a bonfire. Rishi says to Vasudhara that mechanic is repairing the car and if she wants to sleep she can he will wake her up when the car is ready. Vasudhara says how can one sleep in this beautiful moment. Rishi says you always capture moments as memory right. Rishi says he will ask something and tells her to answer straight. Vasudhara asks what is it. Rishi asks why did she think of giving the gift that he gave her which broke infront of him to him. Vasudhara asks why is he asking like this. Rishi says how can you act like you anything didn't happen. Rishi says my dad used to tell me that my heart is like a child and he may be right. But how can you be normal after what happened.
Rishi says he doesn't understand why she is acting like this. Vasudhara says he might not believe whatever she said. So Vasudhara says we will talk about this topic later. Rishi says then what are we going to talk about are we going to talk about Sakshi. Vasudhara thinks even if I told that Saskhi gave a warning he might not believe it. Rishi says everyone is changing I think I am the only one that is not changing.
The mechanic comes and says the car is ready. Vasudhara brings his cellphone and purse. Rishi gives him money and he leaves. Rishi sees he got a lot of calls from Devayani. Rishi calls Devayani and Devayani says he wants to see him one last time and asks him to come quickly and cuts the call. Rishi tries to call back but he gets the message as the phone is switched off. Rishi tells to Vasudhara we are leaving right now tell them. Devayani asks Dharani for some fruits.
Vasudhara asks Rishi to drive slowly. Rishi says Devayani is crying. Vasudhara messages to Jagathi to know what is going on and Jagathi asks if they are coming and Vasudhara says they are coming. Vasudhara sees Rishi is angry and stops messaging.
Jagathi comes to talk to Devayani. Jagathi pleads with Devayani not to ruin Rishi's life beacuse of her. Devayani says it's too late Rishi is going to come and he will do whatever she says. Jagathi says you raised Rishi you should have some love for him and asks don't take her anger on Rishi that is on me. Devayani says she is going to make Sakshi this house daughter in law. As she will listen to me. Jagathi says she said to her what she has to say. Devayani says whatever happens will happen.
Jagathi asks Mahindra to call Rishi. Rishi arrives to the house. Devayani hears that Rishi car sound and she goes inside her room to act. Rishi messages that he is in the house. They come to meet Rishi. Rishi asks about Devayani. Dharani says Devayani is in her room. Rishi goes to Devayani's room. Devayani acts as she is she is deeply hurt. Devayani cries and tells Rishi to spend some time with her and says how she raised him. Devayani asks Rishi's forgiveness. Rishi asks about what. Devayani says she made a mistake in Sakshi's matter.
Episode ends