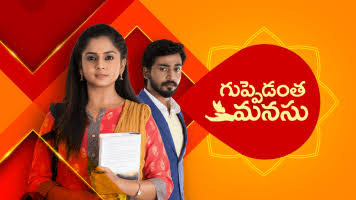 Guppedantha Manasu 6th August 2022 Written Update on TellyExpress.com
The episode starts with Devayani saying to Rishi that she always sees him as her life. She says I may did mistakes in some matters so forgive me. Rishi asks why she is talking in this way. Devayani says she did a mistake in the Sakshi matter. Rishi asks why to talk about her. Why did you say it's the last phone call on call? Devyani asks will he fulfill her wish. Rishi agrees. Devayani asks him to give her a glass. Rishi gives her. Devyani says it's her wish to drink poison from his hand. Rishi throws the glass and asks why she wants to drink poison. He asks which matter is paining her.
Devayani says I promised Sakshi that I will make you guys get married but she is changed. She threatened to ruin our respect if we didn't perform your marriage with her. Rishi asks if she is stooping this low. Devayani says Sakshi loves you but I can't tell you to marry Sakshi so it's better to die than breaking a promise. Your happiness matters to me that's why I didn't even say anything when you bring Jagathi home and gave more importance to Vasudhara, I know that Sakshi did wrong but she did it for her love, and she even threatened me for her love and I may end up in jail if she complained on me that's why I planned this suicide. Rishi looks on. Devayani says there are 2 ways, one is asking you to marry Sakshi, and the second is bending in front of Sakshi. Both won't happen that's why I want to kill myself. Rishi asks her to not say it in that way. Devayani says you can't stop me all the time and I can't bear the shame. Rishi looks on and leaves the room. Devayani smirks.
Gautham asks Vasudhara where they went. Jagathi comments on it. Mahindra asks how is Rishi's mood and what is his reaction about Sakshi. Vasudhara says she never understood what is Rishi's mood. Vasudhara says he is looking cool but he is not that cool inside. Jagathi asks Vasudhara to stay here as it is too late.
Devayani calls Vasudhara. Vasudhara comes and Devayani says by holding her hands to save Rishi herself. Devayani asks Vasudhara to save Rishi from Sakshi. Vasudhara says he doesn't need anyone's savings he can take care of it himself. Devayani says are you thinking why I suddenly supported you. Vasudhara says I have doubts about it. Devayani says for me Rishi is first after that is anyone. Vasudhara agrees to her request.
Rishi thinks of what Devayani said. Vasudhara offers coffee but he doesn't take it. Vasudhara tries to offer it again but he just walks away. Vasudhara is absent minded while she is serving the customers and gives the wrong order to the customers. Vasudhara thinks it will be great if Rishi comes here.
Episode ends.