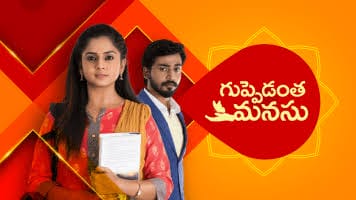 Guppedantha Manasu 7th January 2023 Written Update on TellyExpress.com
The episode starts with Rishi sleeping on a bed in the dhaba and recalling Vasudhara's words and his moments with Vasudhara. On another side, Vasudhara cries seeing the ring and nuptial chain. Rishi thinks what are you trying to do with me Vasudhara, I won't leave you alone even if you asked me. The server asks him what he wants. Rishi leaves paying him money. At the hospital, Constables go to drink coffee. That time Rajiv enters Sumithra and Chakrapani's ward. He noticed both are not in their senses. He tells unconscious Chakrapani that he will maintain his image until he trusts him but Sumithra is a problem.
Rajiv tells Sumithra that she has to sacrifice her life to make him get married to Vasudhara otherwise he may get jailed if she gives a statement against him. Rishi enters the hospital. Rajiv removes the oxygen mask of Sumithra. Sumithra struggles to breathe. Rajiv asks her to tell him her last wish. He tells her that he will name his and Vasudhara's baby Sumithra. He promises her that he will take care of Vasudhara and leaves the room. Chakrapani notices Rajiv leaving the room. He feels helpless seeing Sumithra's state. Rishi comes there and notices Sumithra is struggling for breath. He adjusts her mask and calls Doctor. Chakrapani notices it. Rishi asks Doctor to give the best treatment to Vasudhara's parents. He tells Doctor that he is there for them. Chakrapani recalls Vasudhara's words that Rishi is a diamond.
Rajiv comes into the room of Chakrapani and Sumitra. Rajiv sees Rishi and the doctor here. Rajiv comes and asks Rishi what is he doing here? Rishi says he has the responsibility of taking care of them. Rajiv says it is because of them that Vasudhara sent her parents to the hospital. Rajiv blames Rishi for Vasudhara's parent's situation. Rishi tries to argue with Rajiv but stops seeing that it is a hospital. Rajiv asks the doctor to send Rishi away saying the patients will not be happy seeing him. The doctor asks Rishi to leave as it is not right to fight infront of critical patients like this. Rishi asks the doctor to take care of them. Rishi leaves from there. Rajiv thanks the doctor. Rajiv thinks Sumitra is very lucky to live.
Jagathi and Mahindra worry about Rishi. Jagathi asks Mahindra to call Rishi. Mahindra says Rishi already switched off his phone. Jagathi encourages Mahindra but he still worries about Rishi.
Rishi thinks to himself of Vasudhara's behaviour and gets angry at his circumstances. Jagathi and Mahindra return home and asks Dharani if Rishi returned. Dharani says he didn't. Devayani also returns Home.
Episode ends.