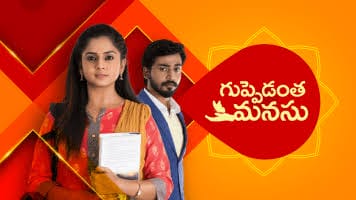 Guppedantha Manasu 7th November 2022 Written Update on TellyExpress.com
The episode starts with Vasudhara trying to take the hair dryer from Rishi. But Rishi doesn't give her the hair dryer saying he will help her. Vasudhara tries to take away the hair dryer but Rishi doesn't give her the hair dryer. They both fall on the sofa and look into each other eyes and go into a trance. Dharani comes and calls Rishi. They both get out of their trance hearing Dharani's voice. Dharani says he got a call and leaves the phone there for Rishi. He agrees. Rishi says it is not good to stay with wet hair for a long time. Vasudhara agrees.
Gautham asks Rishi to join him while he is doing exercise. Rishi says he will not do it. Gautham reminds Rishi that they have to meet the minister. Rishi agrees.
Vasudhara looks at herself in the mirror and talks to herself about what is happening because of her stubbornness. Vasudhara gets a call from Rishi. Rishi says he is waiting and asks her to come quickly. Vasudhara agrees.
Mahindra and Jagathi go to meet the minister. Jagathi gives a letter to the minister. Minister asks Jagathi what is this letter about? Jagathi says there are a lot of calls coming from rural areas asking for Mission education to be held in their areas. Mahindra and Jagathi take up that responsibility to do survey in these areas. Jagathi says this is an Authorization letter to Vasudhara to handle the work that she is doing. Minister agrees with Jagathi's dedication and agrees. Minister asks what would they like to have? Mahindra says it is getting late for their flight and they have to go. Minister agrees.
Mahindra and Jagathi see Rishi and Vasudhara coming and hide from them. Rishi smells Mahindra's perfume and goes to the Minister's cabin thinking Mahindra came here. Rishi asks the Minister if his dad came? Minister says Mahindra went just now. Rishi goes looking for Mahindra. Rishi searches for Mahindra outside. Mahindra and Jagathi see Rishi searching for them. Mahindra and Jagathi talk about Rishi. Jagathi asks Mahindra if this is the reason for him to bring a car that Rishi doesn't know. Mahindra says yes.
Minister asks Vasudhara why did Rishi go away like that? Vasudhara says Rishi might have thought of some work. Minister praises Rishi. Rishi comes to Minister's cabin. Vasudhara asks Rishi if he found them. Rishi signals he didn't. Minister says Jagathi and Mahindra left to do a survey for mission education and Jagathi gave him a letter saying she is giving all her responsibilities for Vasudhara. Minister says they were in a hurry to catch the flight. Rishi asks Minister about it. Minister reminds Rishi they live in the same house and he should know about it. Rishi agrees. Minister asks Rishi if everything is alright. Rishi says everything is fine. Minister says to Rishi that he should also make this project a success. Rishi agrees.
Rishi asks Vasudhara why is Mahindra hiding from him? Vasudhara says they might not have done it intentionally. Rishi says we can see what is happening and reminds Vasudhara what they have done. Rishi says they might have also seen him.
Episode ends.
Precap – Rishi asks Vasudhara what is she worrying about? Vasudhara says she is worried about the result. Rishi says there is no need to worry and encourages Vasudhara.