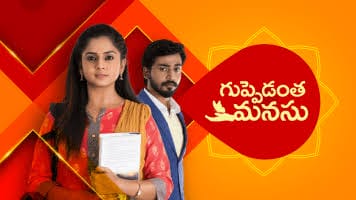 Guppedantha Manasu 8th November 2022 Written Update on TellyExpress.com
The episode starts with Rishi asking Vasudhara why is Mahindra hiding from him. Vasudhara says they might not have done it intentionally. Rishi says we can see what is happening and reminds Vasudhara what they have done. Rishi says they might have also seen him and hides from him as he felt his dad's presence but Dad avoided him, what crime I did? Why he is avoiding me? Vasudhara assures him that everything gets settled soon and asks him to have patience. Rishi says his heart is not hearing pain. Vasudhara says they may get to meet them if they reach the airport. Rishi says it's just a lie. Vasudhara says they will return on exam result day. Rishi says let's hope so. Vasudhara thinks to search for a solution as Rishi is getting hurt by Mahindra and Jagathi's behavior.
Gautham on call asks Mahindra if Rishi saw him. Mahindra says he hides on time. Gautham asks Mahindra to change his decision. Mahindra says he won't come back until his motive is completed. He asks if he talked to Vasudhara to know what's she thinking. Gautham says Vasudhara is supporting Rishi. Devayani comes there and asks with whom he is talking? Mahindra disconnects the call. Devayani takes his phone and says I know that you're informing everything to Phaneedra but no need to do it as I will inform him. Gautham says you're intelligent and know everything. Rishi returns home. Devayani asks Rishi why he looks sad. Rishi reveals to her how his Dad is avoiding him. Devayani asks him to leave it and takes Rishi to his room.
Rishi misses his dad and goes to his room. Where he sees Mahindra in Gautham and hugs him. Gautham tells him he is not Mahindra. Rishi realizes it's Gautham. Rishi says Dad is hiding from me so I need to file a police complaint to trace them. Gautham says a police complaint is not needed. Rishi says he can't bear this pain anymore. Gautham says it's won't good to spread this news so remove this idea from your heart. Rishi asks him to leave him alone. Gautham leaves. Rishi asks why his dad is angry with him.
On the terrace, Vasudhara feels tense about her results. Rishi misses his dad. He notices Vasudhara on the terrace and asks why she didn't sleep. Vasudhara tells him she is worried about her results. Rishi says to Vasudhara that there is no need for her to worry and says he believes in her. Rishi asks Vasudhara to sleep peacefully. Rishi says he is surprised seeing her like this and says he likes Vasudhara the way she is.
Dharani praises Vasudhara for her behaviour. Vasudhara comments on it. Vasudhara asks Dharani for whom she prepared coffee? Dharani says it is for Devayani. Vasudhara says she will take it. Dharani agrees.
Vasudhara brings coffee for Devayani and knocks on the door. Devayani thinks it is Dharani and asks her why is she knocking on the door? Vasudhara comes and says it is manners to knock on the door. Devayani asks Vasudhara what is her plan? Vasudhara says we should not follow the plan all the time in life. Devayani comments on Vasudhara. Devayani asks Vasudhara if her confidence is because of Rishi. Vasudhara says she is right. Devayani says she is watching.
Episode ends.
Precap – Vasudhara to get worried about the exam results. Vasudhara asks Pushpa to see her roll no in the notice board. Pushpa checks the notice board and says to Vasudhara her roll no is not on the notice board. Vasudhara gets shocked hearing this. Vasudhara sits alone. Rishi comes to Vasudhara. Vasudhara says to Rishi that she failed in the exams.