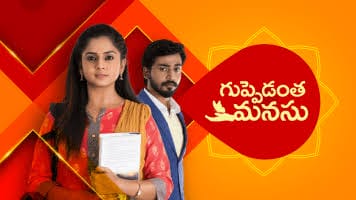 Guppedantha Manasu 9th January 2023 Written Update on TellyExpress.com
The episode starts with Devayani returning home. Jagathi asks Devayani if Rishi called her. Devayani asks if he didn't come with them. Mahindra says he didn't come with us and doesn't know where he went. He asks where she went. Devayani says she went for her work. Mahindra thinks about where she went. Phaneedra says Rishi will return why you guys are looking tense? Mahindra says Vasudhara is married and reveals to them whatever happened. Devayani scolds them for returning home leaving Rishi. Mahindra says situations arise in that way. Devayani says she is worried for Rishi. Phaneedra says Rishi will return soon. Devayani says hopes Rishi won't take any wrong step. She says she won't leave Mahindra and Jagathi if something happens to Rishi. She goes inside.
Rishi reaches the station and thinks he won't leave until Vasudhara answers him about why she cheated on him. Rajiv sees Rishi. He tells Vasudhara 'Rishi came here again' and he stands outside. Vasudhara asks him to make Rishi leave. Rajiv says Rishi doesn't listen to me so make Rishi leave before SI returns otherwise Rishi will be arrested. SI returns to the station. He gets angry seeing Rishi and asks him to leave. Rishi requests SI to allow him once to meet Vasudhara to know the answer to his question. Vasudhara says she will tell truth to Rishi. Rajiv threatens to kill Rishi and her parents if she reveals the truth. He asks her to decide what she wants recalling the incident that happened at home. Vasudhara recalls how he stabbed her mom.
Rajiv comes out. SI asks Rishi to not disturb the Vasudhara and Rajiv's life who are newly married. He says Rajiv is good. Rishi says Rajiv is a fraud. SI says she is married so leave her and you both don't have a brain. Rishi holds his collar then realises what he did. He requests Si not to talk against Vasudhara and tells him that he won't leave from the station until he talks to Vasudhara. SI goes inside.
The inspector says to Vasudhara that Rishi wants to talk to her and he is right outside the police station. He also says to Vasudhara that he caught his collar. Rajiv says to the inspector that he should have thrown him in jail. The inspector says it will be a new headache if both of them are in jail. The police see that Rishi is still waiting outside. The inspector tells the constable to allow Rishi to come inside. The inspector allows Rishi to talk to Vasudhara.
Rishi goes to Vasudhara and asks her who is the one that wore Mangalsutra on her? Vasudhara says to Rishi that this mangalsutra came on her out of her own free will. Vasudhara says to Rishi that she can't say anything more than this. Vasudhara pleads Rishi not to come here again. Rishi gets shattered hearing this and leaves the police station and recalls what Vasudhara said to him. Rishi leaves in his car.
Vasudhara writes the name of Rishidhara on the walls of the cell. Rishi and Vasudhara think of each other. Vasudhara apologises to Rishi in his heart. Rishi says to Vasudhara that she made an unforgivable mistake in her heart.
Episode ends.