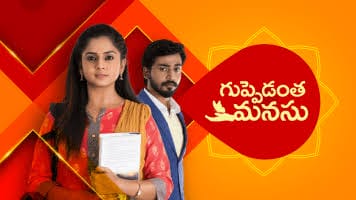 Guppedantha Manasu 9th November 2022 Written Update on TellyExpress.com
The episode starts with Vasudhara mocking Devayani by saying her actions will be direct unlike her. Devayani says I'm seeing your every action. She says Rishi's your support and I saw how he behaved when Jagathi slapped you. Vasudhara says thanks for understanding me. She says Rishi and I understand each other well so I don't care what others think and I can guess who gave the saree idea to Rishi. Devayani thinks that Vasudhara got doubts that she gave the saree to Rishi. Vasudhara says no need to think about it, she advises her to stay peaceful and leaves saying Rishi is waiting for her. Devayani thinks to teach a lesson to Vasudhara.
Gautham asks Rishi what's his plans for results day. Rishi says he is missing Mahindra. Gautham assures Mahindra will come. Vasudhara comes there. Gautham congratulate her before. Vasudhara tells him she is feeling tense as she didn't write the last exam well. Rishi assures Vasudhara saying she will achieve her goal and asks her to be positive. Gautham says true, Vasudhara will top university for sure. Rishi says I trust Vasudhara will top the exams, he asks Dharani to prepare sweets for their celebrations. Dharani agrees. They leave for college.
In the college, Vasudhara hears students discussing that she can't even top college as she falls unconscious in the last exam so she will fail for sure. Vasudhara misses Jagathi. Everyone rushes to see their results. Rishi asks staff to arrange a felicitation program for students who achieved good scores. One of the lecturers says it's good if Mahindra and Jagathi come here. Rishi leaves in silent mode. Gautham tells them they went to tour for mission education. He thinks about what happens to Vasudhara's result.
Vasudhara asks Pushpa to see her roll number on the notice board. Pushpa checks the notice board. She feels happy learning she passed in the second class. Vasudhara asks her to check her number too. Pushpa says to Vasudhara her roll number is not on the notice board. Vasudhara gets shocked hearing this and leaves in dull mode.
Students inform Rishi that they cleared all subjects and tell him it's time for celebrations. Rishi agrees with them and asks where is Vasudhara. They tell him she went in that way. Vasudhara cries to herself thinking she failed. Vasudhara sees Rishi and says to Rishi that she failed. Rishi congrats Vasudhara. Vasudhara asks Rishi why is he congratulating her? Rishi says she passed.
Vasudhara asks Rishi if he is saying the truth and asks Rishi why her name is not on the list. Rishi says he wanted to give the good news to her that's why he didn't print her name in the list. Vasudhara feels elated hearing this. Vasudhara says it would be good if Jagathi is here. Rishi agrees. Gautham congrats Vasudhara. Gautham asks Rishi why didn't he put Vasudhara's name in the notice board. Rishi says he knows that Vasudhara will achieve it. All the students congrats Vasudhara. Gautham takes the video of everyone congratulating Vasudhara.
Dharani comes and shares the good news with Devayani. Devayani asks Dharani what should they do about it? Dharani says they should celebrate. Devayani says there is no need for it. Dharani leaves from there.
Jagathi and Mahindra look at the video of Vasudhara being congratulated. Jagathi feels happy seeing the video. Jagathi says Vasudhara is great. Gautham says Rishi also said the same thing. Mahindra comment on it. Gautham asks Mahindra and Jagathi to return.
Episode ends
Precap – Rishi praises Vasudhara and asks Vasudhara what does she want as a gift? Vasudhara asks Rishi if he will give anything? Rishi says once he gives the word he will not take it back. Vasudhara takes Jagathi's name. Rishi stops the car after hearing Jagathi's name.