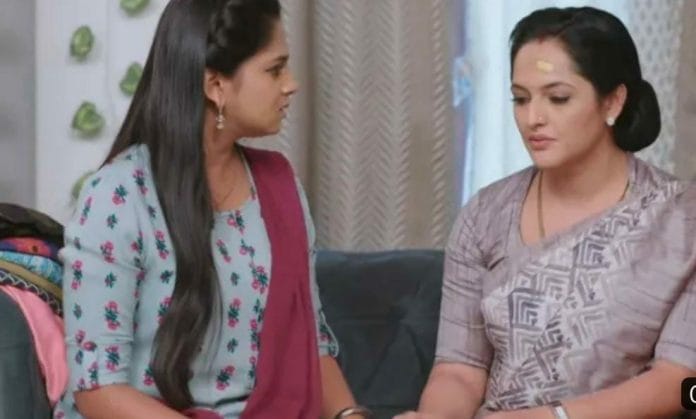 Guppedantha Manasu Upcoming Story, Spoilers, Latest Gossip, Future Story, Latest News and Upcoming Twist, on TellyExpress.com
Maa TV popular show Guppedantha Manasu serial is witnessing some major turning points.
As reported earlier, Devayani asks Rajiv to do her work correctly. Rajiv says he won't leave any opportunity to get Vasudhara. Mahindra comes there and confronts her with whom she is talking at this time. Devayani lies to him that she is helping someone by giving money.
The next day, Devayani asks Mahindra and others when is their trip to Vasudhara's place. Vasudhara asks them to not come with her. Devayani gets mad at her. Phaneedra controls her and asks Vasudhara to tell her opinion.
Vasudhara says I don't know what's my house situation at present so she needs to explain to her parents what happened here by going alone and she is going to make her parents invite them willingly. Vasudhara says her dad has a lot of anger and says he might say something in his anger against them and it will not be right for them.
Jagathi convinces Phaneendra to listen to Vasudhara. Phaneendra agrees. Phaneendra asks Mahindra's opinion. Mahindra also agrees with Vasudhara for her to go first. Devayani tries to convince Rishi for everyone to go with Vasudhara to execute her plan.
Rishi says Vasudhara knows about her family better than us and says they should listen to Vasudhara. Phaneendra says to Vasudhara to go first and says if their marriage happens with her parent's consent then it will be an honour for them.
Vasudhara thanks Phaneendra and Rishi. Phaneendra asks Rishi to make arrangements to send Vasudhara. Rishi agrees.
In the upcoming episode, viewers are going to witness Rishi helping Vasudhara get in the car. Rishi sees Vasudhara has tears in her eyes. Rishi asks Vasudhara why is she crying. Vasudhara says it is because of the love he showed. Vasudhara says she couldn't have agreed to go if he didn't support her.
Rishi encourages Vasudhara and says he will always stand behind her. Vasudhara leaves in a car. Vasudhara gets a message from Rishi asking her to be careful on the trip.
Vasudhara apologizes to Rishi in her mind and thinks it is not her idea to go alone but it is Jagathi and Mahindra's decision. It is shown Jagathi and Mahindra convinced Vasudhara to go to the village alone.
Will Vasudhara be able to convince her father? Will Rishi find out Devayani's other face?
All these questions will be answered in the upcoming episodes.
To know what will happen next in your favorite show, keep checking this space for new and exclusive updates.