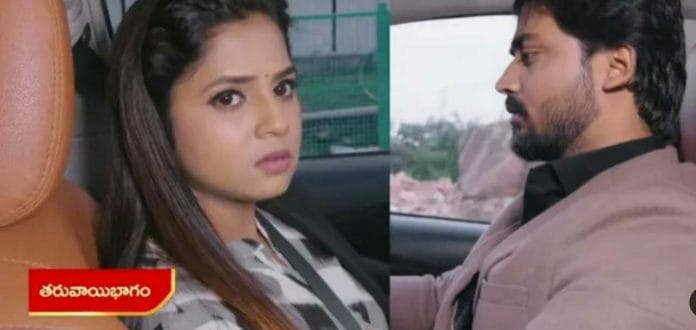 Guppedantha Manasu Upcoming Story, Spoilers, Latest Gossip, Future Story, Latest News and Upcoming Twist, on TellyExpress.com
Maa TV popular show Guppedantha Manasu serial is witnessing some major turning points.
As reported earlier, In the college, Vasudhara hears students discussing that she can't even top college as she falls unconscious in the last exam so she will fail for sure. Vasudhara misses Jagathi. Vasudhara asks Pushpa to see her roll number on the notice board.
Pushpa checks the notice board and says to Vasudhara her roll number is not on the notice board. Vasudhara gets shocked hearing this and leaves in dull mode. Vasudhara cries to herself thinking she failed. Vasudhara sees Rishi and says to Rishi that she failed.
Rishi congrats Vasudhara. Vasudhara asks Rishi why is he congratulating her? Rishi says she passed. Vasudhara asks Rishi if he is saying the truth and asks Rishi why her name is not on the list. Rishi says he wanted to give the good news to her that's why he didn't print her name on the list.
Vasudhara feels elated hearing this. Vasudhara says it would be good if Jagathi is here. Rishi agrees. Gautham congrats Vasudhara. All the students congrats Vasudhara. Gautham takes the video of everyone congratulating Vasudhara.
Jagathi and Mahindra look at the video of Vasudhara being congratulated. Jagathi feels happy seeing the video. Jagathi says Vasudhara is great. Gautham says Rishi also said the same thing. Mahindra comment on it. Gautham asks Mahindra and Jagathi to return.
In the upcoming episode, viewers going to witness Rishi will praise Vasudhara and asks Vasudhara what does she want as a gift? Vasudhara asks Rishi if he will give anything?
Rishi says once he gives the word he will not take it back. Vasudhara takes Jagathi's name. Rishi stops the car after hearing Jagathi's name.
Will Rishi be able to gift Vasudhara? What's Vasudhara's wish?
All these questions will be answered in the upcoming episodes.
To know what will happen next in your favorite show, keep checking this space for new and exclusive updates.