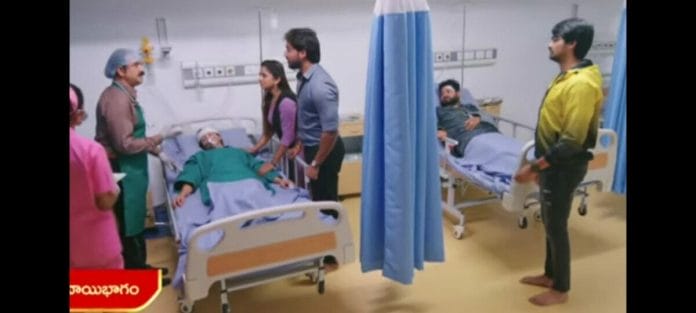 Guppedantha Manasu Upcoming Story, Spoilers, Latest Gossip, Future Story, Latest News and Upcoming Twist, on TellyExpress.com
Maa TV popular show Guppedantha Manasu serial is witnessing some major turning points.
As reported earlier, On the way, Mahindra shares his excitement with Jagathi. That time lorry comes their way. Mahindra and Jagathi meet with an accident. Rishi waits for Mahindra's return. Jagathi and Mahindra are taken to the hospital.
Gautham feels bad seeing Rishi's tension. That time he receives a call from the hospital. The receptionist tells him that someone met with an accident and they found his visiting car in their car. Gautham asks who are they. The receptionist says they are not in a condition to answer so please come to the hospital.
He agrees. Gautham informs Rishi about the receptionist's call and goes to the hospital where Gautham gets shocked to learn Mahindra and Jagathi met with an accident.
Gautham calls Rishi to tell him about it. Devayani sees Gautham calling Rishi's phone and cuts the call as Gautham doesn't help her anytime. Gautham calls Rishi again but she cuts the call again. Gautham feels frustrated as Rishi is not picking up his calls.
In the upcoming episode, viewers are going to witness Rishi and Vasudhara will come to the hospital. Rishi asks Gautham what happened. Gautham says Mahindra and Jagathi got into an accident. Rishi goes to Mahindra and asks him what happened.
Mahindra says they got into an accident while returning home. Vasudhara asks Mahindra about Jagathi. Jagathi is shown in a more serious condition than Mahindra. Vasudhara worries about Jagathi. The doctor comes and asks them if they arranged the blood they asked for the patient. Rishi says his blood group is the same and he will give her blood.
Can Rishi know Devayani'a real face? Will Rishi be able to save Jagathi?
All these questions will be answered in the upcoming episodes.
To know what will happen next in your favorite show, keep checking this space for new and exclusive updates.