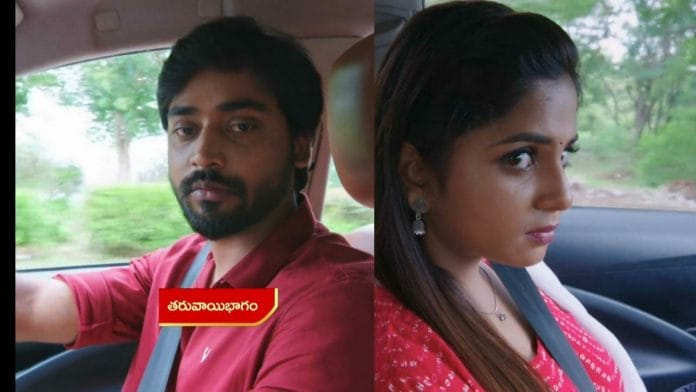 Guppedantha Manasu Upcoming Story, Spoilers, Latest Gossip, Future Story, Latest News and Upcoming Twist, on TellyExpress.com
Maa TV popular show Guppedantha Manasu serial is witnessing some major turning points.
As reported earlier Sakshi talks with Devayani and says she came here from London to get Rishi. But here she doesn't feel she is getting her reward. Devayani advices how she can woo Rishi. Rishi sees the attender takes coffee for Vasudhara and Gautham upstairs.
Rishi asks what are they doing upstairs. Attender says he doesn't know. Attender offers coffee to them. Gautham tells him to put it here. Rishi asks Vasudhara what is she doing here. Vasudhara says we are taking length. Rishi asks her why is she doing it while not going to classes. Vasudhara says this is also college work right sir. Rishi says I am not asking this. Rishi goes away.
Rishi asks Mahindra what are they doing upstairs. Maherndra says it's for training. Jagathi gives an idea if they want to conduct training classes they can also do it in the auditorium. Vasudhara thinks about whether Rishi is going to come back or not and plays with her fingers. Jagathi scolds her and sends her out of the class.
Rishi sees Vasudhara outside the class. Rishi comes and sees Sakshi holding the tray in which Rishi kept the flower that Vasudhara gave him. Rishi shouts at her. Sakshi says sorry and leaves. Rishi thinks of what Devayani said and says to sorry to her calling her back. Sakshi thinks now I have to follow Devayani's advice to make you mine.
In the upcoming episode, viewers going to witness Mahindra will see something is not right with Vasudhara and he goes to help her. Mahindra catches her when she is about to fall down.
Gautham will ask key from Rishi and tells him Vasudhara got dizzy and fell down. Vasudhara will say in an unconscious state in the car seat Rishi will feel troubled if we take his car away so I will go on an auto. It is shown Rishi is the one who drives the car.
Vasudhara will get shocked seeing him.
Will Sakshi get successful in her plan? Will Vasudhara confess her love to Rishi?
All these questions will be answered in the upcoming episodes.
To know what will happen next in your favorite show, keep checking this space for new and exclusive updates.