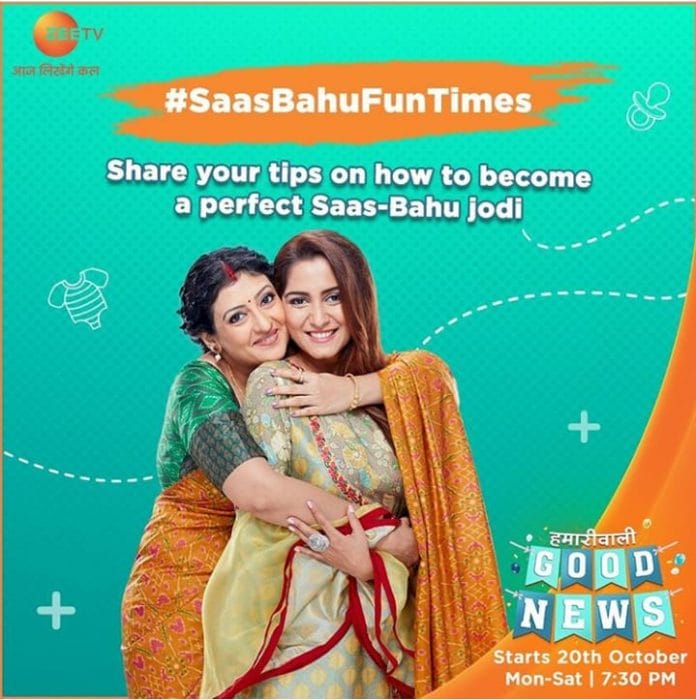 Hamariwali Good News 14th April 2021 Written Update on TellyExpress.com
Episode begins with a lady telling Ashraf not to switch on so many lights so that people don't have any idea that someone is staying in the house apart from Ashraf. She says that you have given me your support when my own family members and especially my own son ditched me. When I found my infant child in a basket, I immediately understood that he is not safe anymore in the Tiwari house. Ashraf says to her please do not thank me for anything but whatever I have is because of you and my boss Mukund Tiwari.
Sumitra visits the same priest with a request to help her out in finding Renuka and he says that the least I could do is to make you aware that she is around you and is living very close to you. Sumitra thinks where Renuka can be and she notices that Ashraf is sleeping outside of his house and she finds it odd. She tries to ask him about it but he says that it is too hot inside the house so he is sleeping outside so that he can get a good sleep. He also says that the fan is not working anymore that is why he has to sleep here but Sumitra is not fully convinced with his defence but you choose to close the topic of discussion there.
In the night Sumitra comes outside of the room of Mukund and notices him through the window and leaves. Mukund feels thirsty in the night and again Renuka because she always used to tell him to drink enough water before sleep or else you will get up in the middle of his sleep in the night. Aditya is thinking about the words of his elder sister and he couldn't understand how that is possible. Akki comes to him and says that I'm sure all these are a part of the plan of Sumitra. It has to be her and there is no doubt about it. Suddenly Sumitra comes in their house and says that I need to purify your house because I feel there is some negative energy in this home.
Aditya gets doubtful and says why I am feeling she is not here only to beautify the house but there is some alter motive behind this. Alok comes to meet Navya and he again tries to force himself on her. She is asking for help but Alok says no one is here to reach you out. Sumitra comes and saves the day for Navya and asks Alok to look for Renuka. The next morning, Aditya comes to Tiwari house and says that I am going to stay here from now on till the time my mom is not coming back.
Preeti also supports Aditya and says to Mukund that this is not a time to argue and fight among ourselves but to unite and try to find Renuka. Alok says to Sumitra that we have to make a situation like this so that Renuka gets bound to come in front. Sumitra spikes the tea of Mukund and he starts to vomit and all the family members gets shocked.
Also Check: