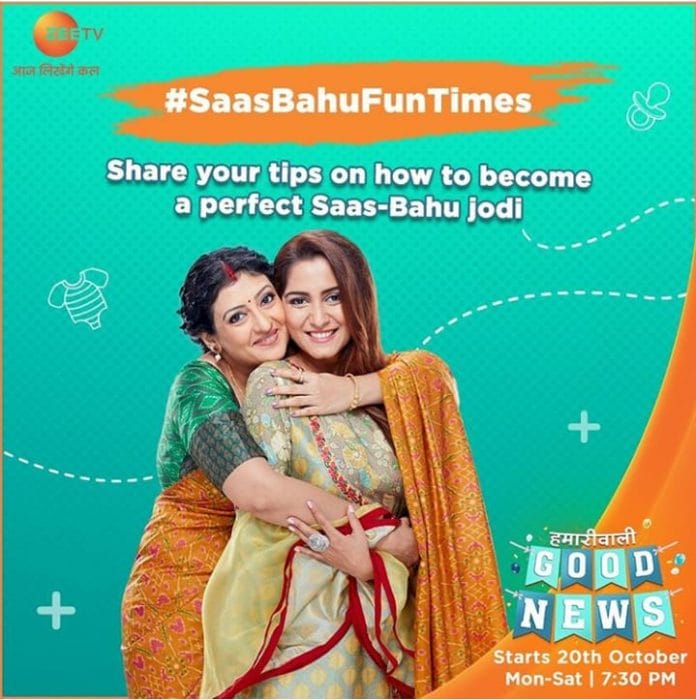 Hamariwali Good News 15th April 2021 Written Update on TellyExpress.com
Episode begins with Aditya and Preeti getting worried for Mukund to see his state. His health gets worse and Mukund is continuously coughing. Aditya asks Priti to give him lukewarm water and salt to minimise the effect of the poison and he gets busy to contact a doctor immediately. Alok and Sumitra exchange some words through their eyes and Sumitra is behaving in a way as if she is very much worried about Mukund. Preeti tries to make Mukund drink the lukewarm water. Suddenly, Mukund starts to go out of breath while on the other hand, Aditya is getting worried for his father. Finally after some time they got a doctor Who agreed to come to their house to check the patient. Sumitra does a lot of drama and leaves from there And she comes outside of the house and purposely starts to shout saying that Mukund is very much and well and he is not doing good and anything can happen to him etc etc. And as per their plan Ashraf got to hear the entire thing and as usual he informed Renuka about it all.
Alok immediately calls his friend and says to him that you need to be very much on alert because the phone can get switched on and activated at any moment and we have to trace it out. Mukund finally recovers and opens eyes for everyone to get relief. He says to his daughter and Aditya that they need not to worry and can easily go ahead with their pending work. Alok says to his wife that let him take rest as he just recovers and we should leave the room as of now. Mukund is in semi conscious mode and he is remembering all his memories with Renuka and gets emotional.
Suddenly he hears that his phone is ringing and I think that if the phone is being activated then it will keep on ringing like this. He immediately tries to keep the phone and that the below so that the ringtone doesn't disturb his sleep. After sometime, he notices that the caller name on the screen is showing Renuka and he immediately gets up and receives the call. After a long time he gets to see Renuka and she is doing all fine and good. She scolds him for being careless enough and not able to keep up fine with his health in her absence. She says to him that he needs to wait for some more time and they will meet soon.
Sweater on other hand decoded on her own that it is Ashraf who has given shelter to Renuka in his house and he just places all the broken pieces together and the reality comes in front of her. Renuka is talking to Mukund on the video call and Sumitra comes and hits Renuka from the back side of her head and she immediately gets unconscious. Renuka falls on the ground but she secretly takes the phone and hides behind her saree. Sumitra informs Lalla to do the rest of the work like he always does for her. Mukund informs the house that Renuka is in some danger. He and Aditya went to search for her but didn't find Renuka in the house of Ashraf. Lalla goes out of the locality with an unconscious Renuka.
Also Check: